Martin Goosey Appointed Visiting Professor in Sustainable Electronics Manufacturing
October 5, 2016 | Martin Goosey
Estimated reading time: Less than a minute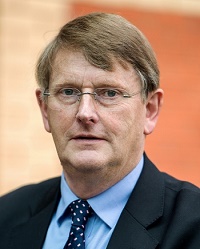 Loughborough University's engineering students will gain unique industry insights thanks to a new appointment supported by the Royal Academy of Engineering Visiting Professors scheme. Dr. Martin Goosey joins the University for the next three years in the School of Mechanical, Electrical and Manufacturing Engineering, where his significant experience of industry practice and appreciation of the challenges the sector faces will help ensure Loughborough's engineering graduates have the skills and knowledge it demands. 
He said: "Having worked as a researcher in the electronics industry for over forty years, I am delighted to have this opportunity to pass on some of my experience to the future generations of scientists and technologists that are beginning their career journeys at Loughborough University.
 "I have been engaged with the University in various ways over the last 20 years, including working on collaborative R&D projects and co-directing the Innovative Electronics Manufacturing Research Centre.  This exciting new appointment gives me the chance to continue my involvement with Loughborough and to engage with the undergraduate community.
---
Suggested Items
09/26/2023 | SMTA
SMTA is pleased to announce Catherine Wong, Foothill College, has been selected as the recipient of the 2023 JoAnn Stromberg Student Leader Scholarship.
09/25/2023 | Purdue University
Purdue University continues building momentum as America's leading university in semiconductors, with a broad range of updates this fall semester.
09/25/2023 | Alison James
"Electronics systems are at the heart of almost all modern technology. The performance and functionality of these systems have increased at breathtaking speed, chiefly as a result of advancements in semiconductor technology. Semiconductors do not function in isolation," writes Alison James, IPC senior director of government relations, in a 2023 report for the European Commission's Directorate General for Internal Market, Industry, Entrepreneurship. "These electronics systems feature prominently in key sectors like defence, aerospace, space, automotive, medical, and high-performance computing, but electronics are vital to every industry and are central to a variety of EU priorities, including the twin digital and green transitions and Europe's technological sovereignty."
09/25/2023 | APCT
APCT, a leading name in the PCB and electronics industry, is delighted to announce the appointment of Peter Austin as its President and CEO, effective September 1. Peter takes the reins from former CEO, Steve Robinson, who has retired after years of dedicated service to the company.
09/21/2023 | KIC
KIC, a renowned pioneer in thermal process and temperature measurement solutions for electronics manufacturing, is thrilled to announce its participation in the upcoming SMTA Guadalajara Expo & Tech Forum.