Books

Featured Books

pcb007 Magazine

Latest Issues

Current Issue

Finding Ultra

New demands on PCB fabrication, namely advanced packaging, ultra high density interconnect (UHDI), and new specialty materials, are converging, changing the landscape of our business. Is it time to start paying close attention to this convergence?

Developing a Strategy

A solid strategy is a critical part of success. This month, we asked some of the top industry leaders and business strategy "gurus" to share their thoughts on developing strategies.

Winning With TQM

In this issue, we explore how TQM has entered the DNA of continuous improvement disciplines, and the role leadership transformation plays in this. If you've ever competed against a TQM company, you understand their winning advantage.

Columns

Latest Columns

||| MENU
Rogers Launches Laminates for Automotive Radar Sensor Applications
December 12, 2016 | Rogers Corporation
Estimated reading time: 1 minute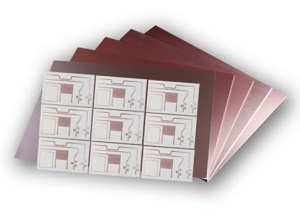 Rogers Corporation announced the latest addition to its RO4000® Series thermoset circuit materials: RO4830 high-frequency laminates. RO4830 laminates offer 76-to-81-GHz auto radar sensor designers a lower-cost-but-performance-competitive option. Rogers RO4830 laminates have a lower price point and are processed by means of standard epoxy/glass (FR-4) circuit fabrication methods, for lower overall production costs versus PTFE-based circuits.
Available in dielectric thicknesses of 0.005 and 0.0094 inch, RO4830 laminates are suited for cap layers on FR-4 multi-layer PCB designs.  The optimized resin, glass and filler content of RO4830 laminates translates to a relative dielectric constant (Dk) of 3.2 at 77 GHz, close to matching that of the PTFE-based circuit materials typically used for millimeter-wave circuits.  At 76-to-81-GHz, thin laminate insertion loss is heavily influenced by copper foil roughness, and therefore RO4830 laminates are clad with Rogers LoPro® reverse-treated copper foil to achieve very low insertion loss of 2.2 dB/inch for 5 mil laminates, as measured by the microstrip differential phase length method.
Spread glass and a filler with a smaller and more uniform particle size distribution contribute to consistent within sheet dielectric constant as well as good laser drilling performance.  The RO4830 laminates are based on the same anti-oxidant formula used in Rogers RO4835™ laminates and are more resistant to oxidation than other hydrocarbon-based laminates.
Rogers RO4830 high frequency thermoset laminates are available in standard panel sizes of 12 × 18 in. (305 × 457 mm), 24 × 18 in. (610 × 457 mm), and 48 × 36 in. (1220 × 914 mm) with 0.5 oz. (18 µm) or 1.0 oz (35 µm) reverse-treated EDC foil. 
About Rogers Corporation
Rogers Corporation is a global technology leader in engineered materials to power, protect, and connect our world.  With more than 180 years of materials science experience, Rogers delivers high-performance solutions that enable clean energy, Internet connectivity, advanced transportation and other technologies where reliability is critical. Rogers delivers Power Electronics Solutions for energy-efficient motor drives, vehicle electrification, and alternative energy; Elastomeric Material Solutions for sealing, vibration management, and impact protection in mobile devices, transportation interiors, and performance apparel; and Advanced Connectivity Solutions materials for wireless infrastructure, automotive safety and radar systems. Headquartered in Connecticut (USA), Rogers operates manufacturing facilities in the United States, China, Germany, Belgium, Hungary, and South Korea, with joint ventures and sales offices worldwide. For more information,
click here
.
---
Suggested Items
09/20/2023 | I-Connect007 Editorial Team
Panasonic's Darren Hitchcock spoke with the I-Connect007 Editorial Team on the complexities of moving toward ultra HDI manufacturing. As we learn in this conversation, the number of shifting constraints relative to traditional PCB fabrication is quite large and can sometimes conflict with each other.
09/14/2023 | MKS' Atotech
MKS' Atotech, a leading surface finishing brand of MKS Instruments, will participate in the upcoming IPCA Expo at Bangalore International Exhibition Centre (BIEC) and showcase its latest PCB manufacturing solutions from September 13 – 15.
09/14/2023 | Vern Solberg -- Column: Designer's Notebook
Flexible circuit applications can be as basic as furnishing electrical interconnect between two conventional circuit board assemblies, or to prove a platform for placing and interconnecting electronic components. During the planning and pre-design phase of the flexible circuit, there will be several material and process related questions that need to be addressed. Most flexible circuit fabricators welcome the opportunity to discuss their customers' flexible circuit objectives prior to beginning the actual design process.
09/14/2023 | John Watson -- Column: Elementary, Mr. Watson
Electronics are continually evolving, driven by innovations in printed circuit board technology. Flexible PCBs have emerged as a revolutionary force, reshaping the PCB industry and influencing the design and functionality of countless electronic devices. Some believe that flexible PCBs are a relatively newer technology, but as we will see, that is not true. Since I'm an instructor, here's a short history lesson on how we got here and what we can expect.
09/11/2023 | PRNewswire
Can digital and/or high throughput manufacturing be applied to circuit boards? Can stretchable electronics be produced without sacrificing processing capabilities?