Books

Featured Books

design007 Magazine

Latest Issues

Current Issue

Rigid-flex: Designing in 3D

In this month's issue, our expert contributors share their best tips, tricks and techniques for designing rigid-flex circuits. If you're a rigid board designer considering moving into the 3D world of rigid-flex, this issue is just what the doctor ordered!

Simulation, Analysis, and AI

Getting today's designs "right the first time" is critical, especially with costly advanced PCBs. Simulation and analysis software tools can help you in the fight to eliminate respins. They're not magical, but they can predict the future of your design.

Advanced, Complex & Emerging Designs

This month, our contributors focus on designing PCBs with advanced, complex and emerging technologies. We investigate design strategies for boards that are on the cutting edge of technology, or crazily complex, or so new that designers are still writing the rules as they go.

Columns

Latest Columns

||| MENU
SimplifyDA: Time for a New Autorouter Paradigm?
March 28, 2019 | Andy Shaughnessy, Design007 Magazine
Estimated reading time: 8 minutes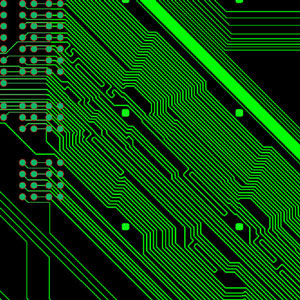 At DesignCon, I spoke with SimplifyDA CEO Zen Liao and Director of Sales and Marketing Dale Hanzelka. SimplifyDA is putting a new twist on the old autorouter by utilizing topological technology. I asked them to discuss their approach to autorouting, and how they plan to entice more PCB designers to use routers. Is it time for a paradigm shift in autorouting?
Andy Shaughnessy: It's good to see you, Dale. I haven't seen you since you started with SimplifyDA a few years ago. Can you tell us about your job responsibilities? I know you're an old designer at heart.
Dale Hanzelka: I am an old designer and application engineer. I've been in the industry for 23 years now. I worked with another EDA vendor before this and made the move over to working with a more specialized product, and I'm currently in charge of sales and marketing. At DesignCon, we're demonstrating our autorouter.
Shaughnessy: Zen, can you tell us a little bit about the company? I've heard that routers are sort of your sweet spot.
Zen Liao: I started my career as a router developer about 25 years ago. I first joined Cooper & Chyan Technology (CCT) in the early 1990s. I was one of the developers working on the core engine of the autorouter, which was shape-based. Shape-based routing technology has its strengths and weaknesses. Since CCT was acquired by Cadence, I stayed at Cadence for a couple of years, but then I left. But I kept thinking about what we can do for our customers with the design in their head. Back then, I was sadly informed that designers have been using autorouters less and less frequently, and I wanted to know why.
Because current PCBs use an increasing number of BGA components, the original shape-based routing technology is not enough, because if you cross any angle, they don't route. I was still wondering what we could do about these kinds of designs when I read some papers on topological routing. I thought it was good, but it was only on paper at that time because nobody else was seriously doing it—these were only academic ideas with university research, etc. I started doing something about it and found that it is very effective for certain types of designs.
Also, topological routing typically is for very narrow areas of routing originally, but I think that it can be expanded to more general PCB routing. I founded Simplify Design Automation for IC packaging designs and PCBs in general. It had some difficulties, but we succeeded in overcoming those difficulties and have become a highly effective autorouting technology. Now, we have the best completion rate when compared to any other competitors.
Shaughnessy: Are you talking about PCB and IC packaging?
Liao: Yes. Our mission is to try to automate the design process, which can be done only manually currently. We have a very clear focus. We don't try to compete with something that is already automated, such as digital circuit designs. There's a major market for those big companies.
Shaughnessy: There are a lot of people already in that.
Liao: Exactly. We succeeded in delivering the autorouting solution for PCB and IC packaging designs. The good news is that more and more customers are asking for autorouting technology each year, and we have seen favorable growth for the last two years. Also, we are licensing our technology to some big vendors in the same design tool industry.
Shaughnessy: That's what I was wondering. Would the big three EDA companies be interested?
Liao: Not the biggest companies yet, but some major ones are our OEM customers. They don't want to mention it, so we respect that, but people will know eventually.
Hanzelka: We're also working within the flat-panel display area as well.
Liao: Correct. We've done that by teaming up with some manual design tool companies. The designs require any angle routing and no one else tries to automate it, so it's a good market for us.
Hanzelka: We are trying to be a solution-based software router rather than an all-in-one company.Page 1 of 2
---
Suggested Items
09/20/2023 | I-Connect007 Editorial Team
Panasonic's Darren Hitchcock spoke with the I-Connect007 Editorial Team on the complexities of moving toward ultra HDI manufacturing. As we learn in this conversation, the number of shifting constraints relative to traditional PCB fabrication is quite large and can sometimes conflict with each other.
09/19/2023 | Anaya Vardya -- Column: Standard of Excellence
In my last column, I discussed cutting-edge innovations in printed circuit board technology, focusing on innovative trends in ultra HDI, embedded passives and components, green PCBs, and advanced substrate materials. This month, I'm following up with the products these new PCB technologies are destined for. Why do we need all these new technologies?
09/18/2023 | ViTrox
ViTrox, which aims to be the world's most trusted technology company, is excited to announce that our trusted Sales Channel Partner (SCP) in Mexico, SMTo Engineering, S.A. de C.V., will be participating in SMTA Guadalajara Expo & Tech Forum. They will be exhibiting in Booth #911 from the 25th  to the 26th of October 2023,  at the Expo Guadalajara in Jalisco, Mexico.
09/18/2023 | Intel
Intel announced one of the industry's first glass substrates for next-generation advanced packaging, planned for the latter part of this decade.
09/18/2023 | Aidan Salvi -- Column: Facing the Future
I have been in and around circuit boards most of my life. I started 20 years ago in my family's PCB shop, leaving after a couple of years to start my own software company. About a year ago, I returned to the family business, and the first thing I noticed was that nothing had really changed. We were doing the same things in the same way as the day I left. After talking to several experts in the industry, I realized it was worse than that: The manufacturing of PCBs had not changed in 70 years.