Books

Featured Books

pcb007 Magazine

Latest Issues

Current Issue

Finding Ultra

New demands on PCB fabrication, namely advanced packaging, ultra high density interconnect (UHDI), and new specialty materials, are converging, changing the landscape of our business. Is it time to start paying close attention to this convergence?

Developing a Strategy

A solid strategy is a critical part of success. This month, we asked some of the top industry leaders and business strategy "gurus" to share their thoughts on developing strategies.

Winning With TQM

In this issue, we explore how TQM has entered the DNA of continuous improvement disciplines, and the role leadership transformation plays in this. If you've ever competed against a TQM company, you understand their winning advantage.

Columns

Latest Columns

||| MENU
A Young Engineer's Perspective on Joining the Industry
November 21, 2019 | I-Connect007 Editorial Team
Estimated reading time: 1 minute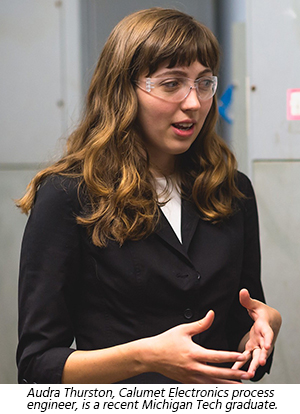 Audra Thurston, a process engineer at Calumet Electronics Corporation, talks about being an intern transitioning out of college and into the PCB industry. She gives her advice to other college students pursuing engineering and gives her view on the aging workforce and IPC student chapters.
Nolan Johnson: Audra, I'm interested to learn how you came to be a part of this industry. Who do you work for, and what is your role?
Audra Thurston: I came to Michigan Tech to get my chemical engineering degree. At that point, I didn't even know that a chemical engineer could work with PCBs; I thought you exclusively had to be an EE. But I learned that was not the case when I started looking for an internship in the area of Houghton, Michigan. I started as an intern at Calumet Electronics—about 20 minutes from Michigan Tech—the summer before I graduated. I came out of that internship with the desire to work with PCBs as a full-time career. Then, Calumet Electronics hired me after I graduated in 2018 to work as a process engineer, which is still my current role.
Happy Holden: What struck you about PCBs and led you to want to work with them?
Thurston: The industry keeps you on your toes, and if you stay in the industry, you will continually learn because of the pace of change in electronics is rapid. There are other career options for chemical engineers, such as paper making, but that wasn't as interesting to me because paper making probably isn't going to change much in the next 20 years compared to how much electronics is going to change in the next two years. I felt like I could be a part of cutting-edge technology.
Holden: There has never been a dull moment in my almost 50 years in the industry. And for younger people like you, it's going to be even more challenging and fast-paced.
To read this entire interview, which appeared in the November 2019 PCB007 Magazine, click here.
---
Suggested Items
09/29/2023 | Dixon
Dixon wholly owned subsidiary- Padget Electronics Private Limited enters into an Agreement with Xiaomi to carry out manufacturing of smart phones and other related products for Xiaomi.
09/29/2023 | USPAE
In a major initiative to innovate how the Department of Defense (DoD) spurs commercial technology development, the U.S. Partnership for Assured Electronics (USPAE) and DoD launched a Defense Business Accelerator (DBX) to open doors for industrial base growth and stimulate private investment.
09/28/2023 | KYZEN'
KYZEN, the global leader in innovative environmentally friendly cleaning chemistries, is proud to announce that it is sponsoring the Women's Leadership Program Connection Reception to be held at SMTA International.
09/28/2023 | Nolan Johnson, I-Connect007
The practical question around CHIPS Act development and electronics assembly is, "Will this change how we do business?" Indium Corporation's Dr. Andy Mackie sat down with Nolan Johnson to share what he sees as emerging answers to that question from his perspective as an expert in electronics assembly and packaging, and as a participant in standards development through IPC, JEDEC, and SEMI.
09/28/2023 | ZESTRON
ZESTRON is happy to announce that Senior Application Engineer, Ravi Parthasarathy, will be presenting "Revolutionizing PCB Assembly Cleaning: