Books

Featured Books

smt007 Magazine

Latest Issues

Current Issue

Chips Don't Float

In Europe and the U.S., legislation is under way to revitalize PCB fabrication and packaging. What is the status of this work, and how specifically does this change the industry landscape for EMS companies? What will help keep us afloat?

Flying High With Digital Twin

The opportunity to use manufacturing simulation as a test bed for job planning and process optimization brings continuous improvement into the modern age. This may be an all-or-nothing type of project, but it's worth the investment.

Artificial Intelligence

In this issue, we (and AI) explored how and when artificial intelligence plays a role in manufacturing today. Whether on the factory floor, or in the front office, AI applications are emerging and changing how we approach planning, processes and problem solving.

Columns

Latest Columns

||| MENU
December Issue of SMT007 Magazine Available Now
December 2, 2019 | I-Connect007 Editorial Team
Estimated reading time: Less than a minute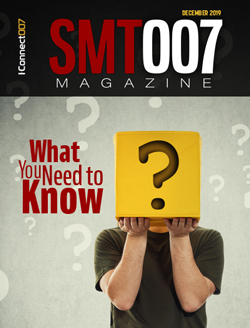 No matter your age or experience level, we all need to be continuous learners. In this issue, we have gathered content that provides insight into the newest and highest impact topics. To help further your expertise, the December issue of SMT007 Magazine offers perspectives in the form of interviews, columns, and articles for some of the things you need to know today!
The December 2019 issue of SMT007 Magazine is now on the virtual newsstand, and available for delivery in your e-mailbox by subscribing here. Download the PDF to your library for a handy future reference.
---
Suggested Items
09/26/2023 | Dan Beaulieu, D.B. Management Group
I was so impressed with "Founder vs. Investor: The Honest Truth about Venture Capital from Start up to IPO" by Elizabeth Zalman and Jerry Neumann that I just had to reach out to them. In my interview with the authors, they share how the book came about, how they often didn't agree, and how vital that was to the integrity of the story they hoped to tell. I know this interview will be just as valuable for you as it was for me.
09/22/2023 | Nolan Johnson, I-Connect007
This week has been chock full of news about upcoming trade shows and conferences. Clearly, the season is upon us. This week, I-Connect007 reported on PCB West in Santa Clara (often referred to as the show which kicks off trade show season) and the topic of artificial intelligence was everywhere. By the looks of it, not just at the conference, either. For months now, the mainstream media has been gobbling up all sorts of news about generative AI engines, painting the picture that we'll all lose our jobs to these tools, while also reporting on situations where the results from AI have gotten progressively worse over time.
09/26/2023 | Joe Fjelstad -- Column: Flexible Thinking
Despite what some seem to believe, rigid-flex circuits are not a new technology. In fact, they are more than a half-century old. At the time of the invention, my friend Thomas Sterns was working at Sanders Associates, the pioneering flex circuit manufacturer. Like many products in the first decades of printed circuit technology, they were working on a military application. The objective was to provide a reliable method for reducing the size, bulk, weight, and questionable reliability of wire harness assemblies while simultaneously reducing cost and assuring that human error might be minimized. These were all vitally important concerns for military and aerospace products.
09/20/2023 | Andy Shaughnessy, Design007
Z-zero founder Bill Hargin has been studying stackup design techniques for years. He developed the company's PCB stackup planning software, and he wrote an I-Connect007 eBook, The Printed Circuit Designer's Guide to… Stackups: The Design within the Design. In this interview, Bill shares his thoughts on designing rigid-flex stackups, the challenges they bring, and what rigid board designers need to know about designing stackups in 3D. "Flexperts" Mark Finstad of Flexible Circuit Technologies and Nick Koop of TTM Technologies also offer insight into the many tradeoffs that rigid-flex designers face.
09/19/2023 | Nolan Johnson -- Column: Nolan's Notes
When I stop to consider the dynamics in our industry at this moment, I keep coming back to the idea of "convergence." Aspects of our industry historically thought of as distinct and separate are blurring the lines and overlapping. As I look back on our coverage in the past five years, I see convergence taking place, moving like a glacier—slow and steady but with formidable force. In this issue of PCB007 Magazine, the three areas of convergence we consider are materials, advanced packaging, and UHDI.