After Decades of E-Textiles Work, a Rising Star Award
March 30, 2021 | Vladan Koncar, ENSAIT
Estimated reading time: 1 minute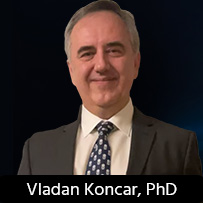 I am currently a distinguished professor at ENSAIT, the textile engineering institute at the University of Lille, in Northern France. My scientific background is related to electronics and microelectronics and my PhD thesis was focused on the decentralized control of complex systems. I started my academic career as a young assistant professor at ENSAIT in 1991, in Roubaix, France. As the main application field of ENSAIT is associated with textiles, I had to adapt my courses and my research activities.
For the first time, I focused on the modeling and control of complex textile processes, and in the late '90s, I started to develop my scientific activities in the area of communicated textiles, even though at that time, it was pretty unclear to me how to connect the electronics—as well as the control and communication theories—to the textile structures. In the beginning, we developed flexible textile displays based on the weaving of optical fibers for France Telecom, and their research department. In April 2005, an article describing these first displays, "Optical fiber fabric display—OFFD," was published in the journal Optics & Photonics News.
Currently, almost all the research activities of my group are focused on e-textiles. Many collaborative and B-to-B projects with French and EU companies are ongoing, and this activity has a steady growth rate.
To read this entire article, which appeared in the 2021 edition of Show & Tell Magazine, click here.
---
Suggested Items
08/21/2023 | John Watson -- Column: Elementary, Mr. Watson
According to the Federal Aviation Administration's flight time limitations and rest requirements, a commercial pilot is restricted to 36 flight hours in a week, 100 hours in 28 days, and 1,000 hours in any calendar year. But before these pilots even start flying the friendly skies, they spend considerable time in a flight simulator. In the same way, PCB design and circuit simulations provide the same advantages: a controlled, safe environment for testing a circuit without the considerable overhead of fabricating and assembling the PCB.
07/11/2023 | Andy Shaughnessy -- Column: The Shaughnessy Report
Designers are an off-grid group of people. I know several people who live in RVs, and they're all PCB designers. Designers are all a little unconventional. In fact, being off grid may be a requirement for success as a PCB designer. Some designers are really "out there." They like to push the limits of their design abilities. They don't like the status quo; they enjoy the challenges inherent in this job. If I've just described you, you're in luck. This month, in Design007 Magazine, we focus on designing PCBs with advanced, complex, and emerging technologies.
07/10/2023 | I-Connect007 Editorial Team
This month, our contributors focus on designing PCBs with advanced, complex and emerging technologies. We investigate design strategies for boards that are on the cutting edge of technology, or crazily complex, or so new that designers are still writing the rules as they go, like Wyatt Earp and his brothers taming a lawless cow town.
06/27/2023 | Business Wire
Keysight Technologies, Inc. announces that Samsung Foundry has adopted the new Keysight IC-CAP Model Generator (MG) to accelerate the creation of circuit libraries, a key component of process design kits (PDKs) for Samsung's advanced radio frequency (RF) semiconductor process technologies.
05/17/2023 | Mycronic AB
Mycronic AB has received an order for a Prexision 8 Evo and a Prexision Lite 8 Evo from an existing customer in Asia. The order value is in the range of USD 31-34 million.