I-Connect007 Editor's Choice: Five Must-Reads for the Week
July 9, 2021 | Nolan Johnson, I-Connect007
Estimated reading time: 2 minutes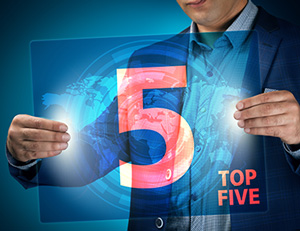 This may be a global industry, but the effect is very real: holidays in the U.S. will drive the industry news cycle. In fact, I can even (unscientifically) rank the major U.S. holidays by their silencing effect on the news. Christmas leads the way, of course, followed by New Year's, Thanksgiving, Independence Day, Memorial Day, and Labor Day.
I was a little surprised to see how quiet the news was over last weekend's Independence Day holiday weekend this time around.  In fact, the industry was as quiet as a typical Christmas week. That said, the news we had was high impact. Let's hope it was because everyone is enjoying the stepwise return to normal life. And maybe, just a little bit of holding back the big announcements for the upcoming trade shows? Nevertheless, here are the top five news items you need to read, even if you've read nothing else.
DoD Cancels JEDI Contract; Seeks New Direction 
Published July 6
Because the Department of Defense's needs have changed rapidly, the DoD has determined that the Joint Enterprise Defense Infrastructure (JEDI) contract leaves the DoD with capabilities gaps. The DoD did, however, announce the intent restart the process.
IPC Renews Partnership with Weiss Engineering to Support Growth in European Electronics Industry 
Published July 2
From the press release, "IPC and Weiss Engineering have signed a cooperative agreement to deliver industry intelligence to the European electronics community, expanding on a partnership that began in 2020."
Catching Up With Archer Circuits' Echo Yang 
Published July 6
Dan Beaulieu speaks with Archer Circuits founder, Echo Yang. At 37 years old, Ms. Yang can count herself as one of the incoming next generation.
IPC-WP-019: The How-to Behind the Cleanliness Requirements in IPC J-STD-001G 
Published July 6
IPC's Debora Obitz shares the complexity of flux chemistries and cleaning solutions as they change. In addition, the ROSE test—originally developed in the 1970s as a process control method for rosin-based fluxes—was not an adequate test for acceptable levels of ionic residues on the majority of the new flux chemistries. Ms. Obitz details the IPC J-STD-001H standard on cleanliness. You can read her overview here.
SMTA Offers New Membership Structure 
Published July 7
SMTA President Martin Anselm and Membership Vice President Rob Boguski outline the SMTA's new vision and structure for membership. In the plans they share here, Anselm and Boguski paint a vision of a dramatically changed—and improved—membership structure, adding value for each membership level and encouraging increased corporate and personal engagement in SMTA's programs.