I-Connect007 Editor's Choice: Five Must-Reads for the Week
September 10, 2021 | Andy Shaughnessy, Design007 Magazine
Estimated reading time: 2 minutes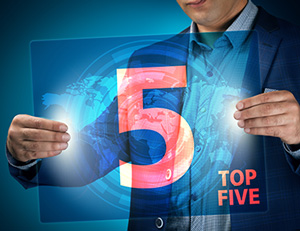 The kids and grandkids are back in school, and fall is on the way. During this busy week, we published a variety of articles, covering everything from trade shows to mergers. It's hard to argue with IPC's plans to require proof of vaccine or a negative COVID test to enter IPC APEX EXPO; you can expect other trade shows to follow suit in the future. We'd hate for a show to become a super-spreader event.
We have news of a merger and a collaboration for next-gen 3D printing. We also have an article from a young PCB designer who offers advice for new designers looking for design education, and an announcement about a set of video presentations by American Standard Circuits that focuses on flex, RF/microwave PCB, and thermal management. Check it out!
Proof of Vaccine or Negative Covid Test Required for IPC APEX EXPO 2022
Published September 7
IPC isn't taking any chances. Attendees, speakers, instructors, staff, and contractors working at IPC APEX EXPO 2022 in San Diego will have to show proof of full vaccination or a negative COVID test within 72 hours to enter the show. The show certainly qualifies as an "indoor mega event" of 1,000 or more people, according to California's guidelines.
NCAB Group Acquires RedBoard Circuits in the USA
Published September 3
NCAB Group has acquired the U.S.-based fabricator RedBoard Circuits. The Swedish company continues to grow and expand its market share. NCAB expects RedBoard Circuits, founded in 2009, to bring extra value to the North American market.
I-Connect007 Launches Real Time with... American Standard Circuits Event
Published September 9
I-Connect007 has launched Real Time with... American Standard Circuits. This special event features video presentations from ASC's Anaya Vardya, John Bushie, and David Lackey that focus on flexible and rigid-flex circuits, RF/microwave PCBs, and thermal management.       
Seeking Out Design Education Resources
Published September 9
We first met Michael Steffen at PCB West in 2019 when he passed his Certified Interconnect Designer exam. In this article, Michael explains how he continues to educate himself about PCB design, and he offers advice to new designers who are hungry for design education and training.
Nano Dimension Teams with Fraunhofer Institute to Develop Next-gen 3D Printing Systems
Published September 8
Nano Dimension is collaborating with the Fraunhofer Institute for Manufacturing Engineering and Automation IPA for the development of next-generation 3D printing systems. According to the terms of the two-year agreement, Nano Dimension and Fraunhofer IPA will focus on R&D for autonomous fabrication of electromechanical systems based on 3D freeform printing and precision 3D assembly.