Kris Moyer Discusses New IPC Design Role
February 16, 2022 | I-Connect007 Editorial Team
Estimated reading time: 3 minutes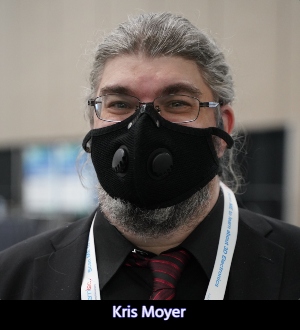 The I-Connect007 Editorial Team spoke with Kris Moyer, a longtime PCB designer who has just joined IPC's Education Foundation. Kris was one of the judges and creators of the IPC Design competition that culminated at IPC APEX EXPO, and he was eager to discuss his new job and the cutting-edge technology he's seen lately, including additive, flex, and rigid-flex circuits. 
Barry Matties: Kris, what's your role at the IPC?
Kris Moyer: I'm on the Education Foundation. I'm actually the instructor who teaches all the printed circuit board design courses at IPC.
Matties: Fantastic. And when you're teaching the design courses, who are your students typically?
Moyer: Typically, it's all levels of professionals already in industry. Everywhere I've had students who are fresh out of college who got a job, and they said, "Hey, you need to learn this, go take it," to folks who have been in the industry to 30 or 40 years and want to expand their knowledge. Basically, it's for anybody in the industry who's working on printed circuit board design and wants to expand their knowledge based off the IPC standards, or just other aspects of board design they might not have been exposed to.
Matties: Well, doing your program, you're learning what the latest trends and demands are for designers.
Moyer: Latest trends, demands, and the latest and greatest IPC standards. It's the latest revision of all the IPC standards, so you're up to date with the latest requirements, standards, methodologies, and so on.
Matties: Why did you join the IPC? What was the appeal here? Why is the IPC so important to the design community?
Moyer: I'll start with the first question. I've been an evening instructor at Sacramento State University, and I recognized the need several years ago to train the next generation of board designers. We weren't seeing a lot of that. We saw folks who were experienced and starting to retire out, but there weren't a lot of people wanting to go into that career. So, I created a course for my university to teach some board design. I was speaking with IPC about that, and they were very interested. They worked with me, we came to an agreement, and I developed the courses for IPC to teach at the professional level. I've been doing that for several years now, and they decided to bring me on full time to develop additional courses.
Matties: One of the things that we're hearing out there in the world is that additive manufacturing is creating a challenge for designers. How are we going to overcome that?
Moyer: Part of it will be with courses like mine that teach how to design with the additive manufacturing processes, while others are just added as that technology gains acceptance and use out in the industry. It will just become heritage knowledge through fabricators, through assembly houses, and so on; it will then be able to convey that information back and forth more efficiently to fabricators just like we do now with traditional boards.
Matties: Are the designers coming to you and saying they want to learn this, or are you going to the designer and saying that you offer this kind of training?
Moyer: Both. The courses I've developed were partly based on feedback. I started with a two-part fundamentals course on the basics of design. The feedback from that, along with my own experience in the industry, said, "These are the areas where we need to add focus on advanced topics."
Matties: What is the hottest topic that the designers are asking for more education on right now?
Moyer: Right now, military aerospace is extremely high in demand, and flexible and rigid-flex printed circuit design is highly in the demand. And then there's one that I call advanced packaging, which is not quite the semi-additive yet, but it's the one dealing with microvias and sequential amination. We're getting to the finer pitch without quite getting to the additive process yet.
To read this entire conversation, which appeared in the February 2022 issue of Design007 Magazine, click here.
---
Suggested Items
09/26/2023 | GlobalFoundries
GlobalFoundries (GF) announced it has applied for U.S. CHIPS and Science Act Funding, with two full applications submitted to the CHIPS Program Office of the U.S. Department of Commerce.
09/25/2023 | HyRel
HyRel Technologies, a global provider of quick turn semiconductor modification solutions, proudly announces that it earned the prestigious AS9100 certification.
09/18/2023 | RTX
RTX business Collins Aerospace has been selected by BAE Systems as the provider for Large Area Display technology to be integrated into the cockpits of future Eurofighter Typhoon aircraft.
09/18/2023 | IPC
IPC Day France: Aerospace Electronics is an aerospace-focused networking event featuring key industry experts from NASA and Airbus and will take place on October 2, 2023 . 
09/14/2023 | CONFIDEE
CONFIDEE, a leading PCB partner, proudly announces its recent achievement of AS9120 certification. This prestigious certification highlights the company's commitment to excellence, quality, and customer satisfaction, making it a preferred choice for all defence and aerospace needs.