Catching Up With Alpha Circuit's Prashant Patel
April 5, 2022 | Dan Beaulieu, D.B. Management Group
Estimated reading time: 4 minutes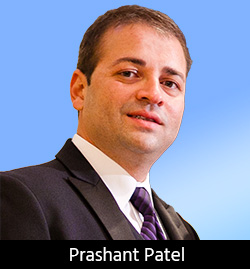 There is plenty of evidence that the American PCB industry is going through a revitalization. While a few new companies are being established, others are being rejuvenated as investors gain more interest and confidence in domestic PCB companies. I reached out to Prashant Patel, owner and president of Alpha Circuit I LLC in the greater Chicago area. I wanted to hear about his investment and the unique path he took to owning a PCB shop.
Dan Beaulieu: Prashant, thank you for speaking with me today and congratulations on buying Alpha Circuit.
Prashant Patel: Thank you for the opportunity to talk about my company.
Beaulieu: Alpha Circuit is not a new company, is it?
Patel: No, not at all. The company was founded in 1981 by B.K. Vaghani and stayed in that family until I bought it in January 2021.
Beaulieu: What is your background and why did you buy the company?
Patel: I am a licensed pharmacist. I started with one and grew to own multiple pharmacies. I was quite successful and made a good living but felt I had hit my limit when I started competing with the big box companies. I knew it was not sustainable. Finally, one of [the big box companies] made me an offer I couldn't refuse.
Beaulieu: What was your motivation for buying a PCB shop?
Patel: There were several reasons. First, I have always been interested in high tech. I also knew many people in the industry here in the greater Chicago area. I talked to them about the possibility of getting involved in a PCB shop. Finally, I believe that the industry has been getting stronger in the past few years and that will continue as Americans look for more domestic PCB sources.
Beaulieu: What are you doing to upgrade the facility?
Patel: We have been working very hard to update the facility, including a brand-new building. We are doing a complete upgrade of all the equipment: new horizontal processing equipment and a new automated insoluble anode plating line. Our next acquisition will be a laser drill and we will start doing more HDI microvia boards. Most importantly, our goal is to find and hire the very best printed circuit board professionals in the industry. Our plan is to be one of the country's cutting-edge facilities. To date we have hired some top-notch frontend CAM people and process engineers, as well as some very experienced operations professionals.
Beaulieu: Let's talk about your technology. Would you consider Alpha Circuit a high-tech company?
Patel: No, not yet. It will be a while before I can say that. We can do rigid boards, multilayers, flex, and rigid-flex boards as well metal-backed boards. That's all good, but I want to do more in high technology.
Beaulieu: Where do you see the technology going in the future?
Patel: What I see is the HDI, sequential lam. Hybrid boards and semi-additive are where the industry is going, and I want to take Alpha there as well.
Beaulieu: Where do you see your company in terms of technology right now?
Patel: I would say that we are currently in the top 20% in the United States, and our goal is to be in the top 5%.
Beaulieu: Now let's talk about quality. What qualifications, certifications, and registrations do you have and why do these give you an advantage over other companies?
Patel: We have the following: ISO 9001, AS9100, TS16949, ITAR, and UL, of course.
Beaulieu: How does Alpha Circuit compare to other companies?
Patel: We are a small company with personal service. We want to make it as easy as possible for people to buy PCBs from us. Our goal is to be a complete solution for our customers no matter what their needs are. We want to give them all the advantages of a large company with the ease of doing business with a small domestic company. We want to help our customers with everything from design to new product introduction.
Beaulieu: What companies are you best suited to work with?
Patel: We have the right specs and qualifications to focus on the aerospace and automotive industries as well as commercial, lighting, and power supply companies. We offer quick-turn services as well.
Beaulieu: How do you see the market today?
Patel: Obviously there are some challenges with COVID which has affected the supply chain as well as the ability to find the right people. But more customers are looking for domestic PCB suppliers which bodes very well for us. We also offer a global solution and that will get better with the decline of COVID. Overall, I believe that the future of the PCB industry, globally and in the U.S., is bright, which means it is bright for us here as well.
Beaulieu: Prashant, thank you again for talking with me and good luck with the plans for your company.
Patel: My pleasure. Thank you, Dan.
---
Suggested Items
10/02/2023 | ACB
With this approval ACB can now deliver 2+N+2 HDI circuits (up to 20 layers) for onboard space applications with the highest reliability level.
09/29/2023 | Indium Corporation
Indium Corporation Regional Product Manager Wisdom Qu will present at the SMTA China South Technical Conference, held in conjunction with NEPCON Asia, on October 11 in Shenzhen, China.
09/29/2023 | Andy Shaughnessy, I-Connect007
This week's must-reads cover a little bit of everything: advanced packaging substrates, rigid-flex design, the potential loss of tribal knowledge, ultra HDI processing, and the need for fabricators to begin utilizing Smart systems. In a few weeks, we'll be attending SMTA International in Minneapolis, and then productronica in Munich. We hope to see you on the road!
10/02/2023 | Dan Beaulieu -- Column: It's Only Common Sense
A few weeks ago, I wrote about a column about how to manage a slowdown in sales. Since then, many of you have called me and said that things are still not getting better, so I'm happy to talk about this issue again. In my previous column, I listed some things you could do to improve your situation. Please go back and read it. But with so many still in a quagmire, I have gone back to the proverbial drawing board to come up with some new ideas and suggestions.
09/29/2023 | IPC
IPC announced the August 2023 findings from its North American Printed Circuit Board (PCB) Statistical Program. The book-to-bill ratio stands at 1.00.