A Definitive Review of New Expert Guide to High-Performance Materials
April 13, 2022 | Happy Holden, I-Connect007
Estimated reading time: 2 minutes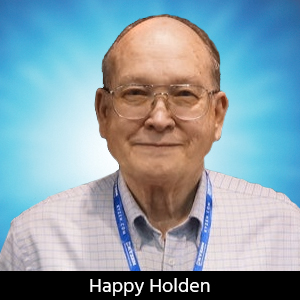 I am always surprised when a colleague produces a statement about PCB laminates that seems incorrect or out of date. This need not happen today as the specialists at Isola have written an excellent book about high performance materials, now available for download from I-Connect007. 
Author Michael Gay, a 25-year veteran of laminate manufacturing, meticulously guides readers through the most pertinent questions regarding rigid laminates. This is essential information for everyone, including the experts, because the materials and applications for laminates in printed circuits are constantly changing. Fortunately, Michael focuses on the basics of high-performance materials being used in today's printed circuit boards.
And Isola should know. The company has been making high-performance and advanced materials for the electronics industry since 1956, remaining among only a handful of companies producing these materials. As the basis for all printed circuit boards, laminate is the major cost driver for PCBs and determines much of its electrical performance. To understand and design printed circuits, you first must understand the PCB materials.
In The Printed Circuit Designer's Guide to… High Performance Materials, Michael first provides a brief history of laminates in this industry. He then proceeds to deliver a thorough education of laminates. But what does that look like?
It starts with resin systems (there are many), while including the role of fillers (again, many) and flame retardants. Next are the reinforcements, especially glass fabrics which must include the types of glass—glass styles, glass weaves, and glass constructions (i.e., spread glass). This is followed by how you use the prepregs (glass fabrics impregnated with resin and partially cured) and multilayer material constructions. Topics like "range of fill capabilities," "dielectric properties," and "stackup advice"—including calculating impedances—come into the picture.
Add copper foil, the final element to prepreg, and you have a rigid laminate. But all copper foils are not created equal, so the author covers surface treatments and roughness, especially for high-frequency skin effect. 
This book concludes with more information about electrical performance and, particularly, the growing automotive use of laminates when voltages and currents are particularly high but subjected to the environmental extremes that automobiles will see.
This is where you must start, but not where you will end. Visit the I-007 eBook library to find other titles in The Printed Circuit Designer's Guide to… series covering PCB materials for flex, rigid-flex, and more on electrical performance. 
Happy Holden has worked in printed circuit technology since 1970 with Hewlett-Packard,?NanYa?Westwood, Merix, Foxconn, and Gentex. He is currently a contributing technical editor with I-Connect007, and the author?of?Automation and Advanced Procedures in PCB Fabrication, and?24 Essential Skills for Engineers.?To read past columns or contact Holden, click here.? 
---
Suggested Items
09/28/2023 | Anaya Vardya, American Standard Circuits
There has always been pressure to reduce line and space as we have seen the bleeding edge technology go from 8 mils to 5 mils and then to 3 mils. The difference between "then" and "now" is that the prior advancements, for the most part, used the same processes, chemistry and equipment going from 8 mils to 3 mils. But going from 3 mil to sub 1 mil trace and space is a quantum leap in printed circuit board (PCB) technology that requires a whole new set of processes and materials.
09/28/2023 | Michael Carano -- Column: Trouble in Your Tank
In a previous column, the critical process of desmear and its necessity to ensure a clean copper surface connection was presented. Now, my discussion will focus on obtaining a void-free and tightly adherent copper plating deposit on these surfaces. After the desmear process, the task is to insure a continuous, conductive, and void-free deposit on the via walls and capture pad. Today, there are several processes that can be utilized to render vias conductive.
09/20/2023 | I-Connect007 Editorial Team
Panasonic's Darren Hitchcock spoke with the I-Connect007 Editorial Team on the complexities of moving toward ultra HDI manufacturing. As we learn in this conversation, the number of shifting constraints relative to traditional PCB fabrication is quite large and can sometimes conflict with each other.
09/14/2023 | MKS' Atotech
MKS' Atotech, a leading surface finishing brand of MKS Instruments, will participate in the upcoming IPCA Expo at Bangalore International Exhibition Centre (BIEC) and showcase its latest PCB manufacturing solutions from September 13 – 15.
09/14/2023 | Vern Solberg -- Column: Designer's Notebook
Flexible circuit applications can be as basic as furnishing electrical interconnect between two conventional circuit board assemblies, or to prove a platform for placing and interconnecting electronic components. During the planning and pre-design phase of the flexible circuit, there will be several material and process related questions that need to be addressed. Most flexible circuit fabricators welcome the opportunity to discuss their customers' flexible circuit objectives prior to beginning the actual design process.