I-Connect007 Editor's Choice: Five Must-Reads for the Week
August 12, 2022 | Andy Shaughnessy, I-Connect007
Estimated reading time: 2 minutes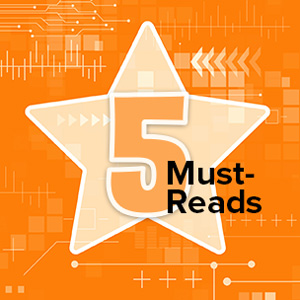 There was some good news this week, as Republicans and Democrats managed to cooperate long enough to pass the CHIPS Act. Sure, it's a little late, and I think Washington only acted because they realized that they had to at least act like they were doing something about semiconductor supply chain problem. But this act might keep us from getting in this same situation a few years down the road.
Members of the House and Senate don't usually act until they get worried about being voted out of office, so pardon me if I'm not ready to sing "Happy Days Are Here Again" just yet. But this is still really good news; the politicians are on the record now, and we can hold them accountable.
As Winston Churchill once said, "America can always be relied upon to do the right thing—after exhausting all possible alternatives." We've tried everything else; now it's time to cooperate, even with competitors, for the good of the industry, and the country.
IPC Lauds Passage of 'CHIPS and Science' Act; Electronics Industry Calls for a Holistic Approach to Reviving Domestic Electronics Capabilities
Published August 9
Congress and President managed to pass the CHIPS Act. Yes, as the saying goes, "Better late than never," but we'll take it. This legislation won't make any difference in our industry in the near future, but maybe it will preclude future semiconductor supply chain jams. At least the DoD has gotten its head out of its hindquarters with regards to the American electronics industry. Hope springs eternal.
SMTA International 2022 Conference Program Finalized
Published August 9
SMTAI is just around the corner, and if you're not registered, what are you waiting for? I've never been to Minneapolis, so I'm looking forward to it. Co-located with the Medical Design & Manufacturing (MD&M) show at the Minneapolis Convention Center, this show is going to be a big one. SMTA should organize a trip to Prince's purple palace after the show. Just a suggestion. 
Myths vs. Facts: The Printed Electronics Roundtable, Part 1
Published August 11
The buzz about printed electronic circuits has been going on for a decade now, but I still hear a lot of questions from engineers who are curious about how to get into this segment. So, we convened a roundtable of PEC experts—fabricators and OEMs—and asked them to dispel some of the myths surrounding this process. One takeaway: PEC are in more products right now than you would imagine. 
Fein-Lines: Live in Person—PCEA/Orange County Meets Up Again
Published August 11
It's been too long since the last meeting of the Orange County Chapter of the Printed Circuit Engineering Association (PCEA). Two years, in fact. Technical Editor Dan Feinberg has a great review of this event. Freedom CAD's Scott McCurdy has built the OC chapter into the largest in the world, and these meetings always draw a huge crowd of designers and other PCB technologists.
Business Email Compromise: The $43 Billion Scam
Published August 10
Our tagline reads "Good for the industry." So, this week we published a PSA from J. Edgar Hoover's boys about a very sophisticated transfer-of-funds scam that's affecting a lot of American companies now. I know some of you have been hit with all kinds of cyber skullduggery, so we wanted to get the word out about this BEC/EAC craziness. The people behind this stuff would be the perfect IT guys, if they ever decided to don the white hat. Watch out, folks.
---
Suggested Items
10/02/2023 | Gen3
Gen3, Global leader in SIR, CAF, Solderability, Ionic Contamination & process optimisation equipment, is pleased to announce the appointment of John Barraclough as the Head of Business Development.
10/02/2023 | KYZEN'
KYZEN, the global leader in innovative environmentally friendly cleaning chemistries, announced that Debbie Carboni, Global Product Line Manager - Electronics, will present as part of the Electric Vehicle (EV) panel during the IPC High Reliability Forum.
10/02/2023 | Mycronic AB
Mycronic AB has received the first order for upgrades of already installed display mask writers from gas laser to solid state laser from SK Electronics in Japan.
09/29/2023 | Dixon
Dixon wholly owned subsidiary- Padget Electronics Private Limited enters into an Agreement with Xiaomi to carry out manufacturing of smart phones and other related products for Xiaomi.
09/29/2023 | USPAE
In a major initiative to innovate how the Department of Defense (DoD) spurs commercial technology development, the U.S. Partnership for Assured Electronics (USPAE) and DoD launched a Defense Business Accelerator (DBX) to open doors for industrial base growth and stimulate private investment.