I-Connect007 Editor's Choice: Five Must-Reads for the Week
September 2, 2022 | Nolan Johnson, I-Connect007
Estimated reading time: 2 minutes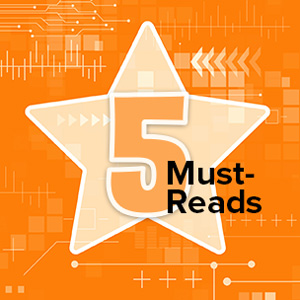 The CHIPS Act continues to captivate the attention of industry insiders, as evidenced by the reader interest in our U.S. legislation coverage. When talking with all of you, we hear a wide range of opinion regarding the CHIPS Act funding, ranging from enthusiasm to cynicism—sometimes in the same conversation with the same person. You can expect ongoing coverage as news continues to unfold. Advanced packaging and the CHIPS Act are increasingly being linked together on the printed circuit side of the industry conversation. Perfect timing, then, that IPC is hosting a symposium on advanced packaging October 11-12 in Washington, D.C. 
The IPC reports on North American PCB fabrication and EMS industry released this week, and the news is good, but with a veil of caution. Not so much cautionary news from Nano Dimension, however, as evidenced in their announcement this week.
Finally, next Monday, September 6, is the U.S. Labor Day Holiday. We'll still bring you Monday's newsletter and track the news of the industry even while the U.S.-based staff pauses to observe the holiday. 
A Deeper Look at the CHIPS Act Investment 
Published August 29
Where and how will the $52 billion in the CHIPS Act be spent? Who will decide how the funds are allocated? Who will benefit the most from this boost into the microelectronics industry? In this interview with Chris Peters at U.S. Partnership for Assured Electronics (USPAE), we seek a better understanding regarding the implications of funding the CHIPS Act. 
Print, Recycle, Repeat: Scientists Demonstrate a Biodegradable Printed Circuit 
Published August 31
According to the United Nations, less than a quarter of all U.S. electronic waste gets recycled. In 2021 alone, global e-waste surged at 57.4 million tons, and only 17.4% of that was recycled. Some experts predict that our e-waste problem will only get worse over time. This news item details current research at Berkeley Lab to develop a fully recyclable and biodegradable circuit board. 
North American EMS Industry Up 22.7% in July 
Published August 26
The performance metrics in the August Industry report align with the experiences and analysis in the September issue of SMT007 Magazine, which has just published. The upshot is that many of the simultaneous economic pressures are beginning to ease, and this easing shows in the numbers.  
North American PCB Industry Sales Up 4.5% in July 
Published August 26 
The PCB fabrication metrics for August suggest that demand is easing for PCB fabrication. Meanwhile, shipments continue strong as backlog is cleared. Going into September and October, it will be interesting to see if this softening in PCB fab demand might also appear further downstream in the EMS metrics. Stay tuned and check back with I-Connect007 to find out. 
Nano Dimension Reports 1,268% Revenue Increase in 2Q22 
Published September 1
"The efforts of our newly assembled Go-To-Market organization are indeed showing results, manifested by an impressive growth in revenue," according to Nano's news this week. "It includes Nano Dimension's network of marketing, sales, pre and post sales application engineers and customer care engineers across Europe and the U.S. Their efforts are indeed substantial and effective, especially with the occurrences of unforeseen events, especially the slowdown in Europe resulting from the industrial players' reaction to the evolving war in Ukraine as well as the crisis in electronic components' supply chain." 
This report discusses the financials behind that 1,268% revenue increase, and to explain how Nano Dimension achieved that growth. If AM and AME components are on your technology roadmap, this makes for good reading.
---
Suggested Items
10/02/2023 | SEMI
Industry visionaries and experts will gather November 6-8 at the MEMS & Sensors Executive Congress (MSEC 2023) at the WIGWAM Resort in Phoenix, Arizona for insights into the latest trends and innovations in sensorization.
10/02/2023 | Gen3
Gen3, Global leader in SIR, CAF, Solderability, Ionic Contamination & process optimisation equipment, is pleased to announce the appointment of John Barraclough as the Head of Business Development.
10/02/2023 | KYZEN'
KYZEN, the global leader in innovative environmentally friendly cleaning chemistries, announced that Debbie Carboni, Global Product Line Manager - Electronics, will present as part of the Electric Vehicle (EV) panel during the IPC High Reliability Forum.
10/02/2023 | ACN Newswire
This joint effort is expected to strengthen the supply of NANOWEB® films and accelerate the growth of the transparent conductive film industry, offering new applications for the automotive and consumer electronics sectors, such as transparent film antennas, transparent film heaters, and transparent film electromagnetic shielding.
09/29/2023 | USPAE
In a major initiative to innovate how the Department of Defense (DoD) spurs commercial technology development, the U.S. Partnership for Assured Electronics (USPAE) and DoD launched a Defense Business Accelerator (DBX) to open doors for industrial base growth and stimulate private investment.