Sunstone and I-007eBooks Launch Book on Designing for Reality
October 24, 2022 | I-Connect007
Estimated reading time: 1 minute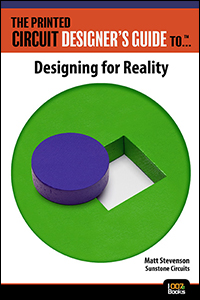 I-007eBooks is excited to announce the release of the latest title in its series for designers, The Printed Circuit Designer's Guide to… Designing for Reality. 
This book covers both written and unwritten rules for how to create a realistic, manufacturable design. 
Written by topic expert Matt Stevenson of Sunstone Circuits, this book covers the complete circuit board manufacturing process, taking readers on a virtual tour of the printed circuit manufacturing process, from choosing the right CAD tool, to additive/subtractive processes, and even touching on the art of PCB design. 
Peer reviewer Duane Benson of Screaming Circuits, says, "I find that having a better understanding of the underlying process helps me create higher quality electronic designs. In this book, Matt Stevenson does a fantastic job of opening the hood and giving the reader that knowledge of the PC board fab process."
Download your free copy today at I-007eBooks.com/dfr. You can also view our full library at I-007eBooks.com.
Dedicated to educating PCB designers, The Printed Circuit Designer's Guide to… series of books is a valuable resource for people seeking the most relevant information available. 
Look for other exciting titles, like:
The Evolving PCB NPI Process
Thermal Management with Insulated Substrates
Stackups: The Design within the Design
High Performance Materials
System Analysis: Electromagnetic Interference and Thermal Analysis of Electronic Systems
…and more coming this fall
We hope you enjoy The Printed Circuit Designer's Guide to… Designing for Reality.
For more information, contact:
Barb Hockaday
I-Connect007 eBooks
barb@iconnect007.com
+1-916-365-1727  
---
Suggested Items
10/02/2023 | Barry Matties, I-Connect007
During my recent tour of SEL's new $100 million PCB factory in Moscow, Idaho, I spoke with Engineering Director John Hendrickson specifically about the partnerships they formed with the many equipment suppliers it took to build a new factory. I wanted to know when he's choosing a supplier in a critical aspect, what is he looking for?
09/29/2023 | Indium Corporation
Indium Corporation Regional Product Manager Wisdom Qu will present at the SMTA China South Technical Conference, held in conjunction with NEPCON Asia, on October 11 in Shenzhen, China.
09/29/2023 | Intel
Intel celebrated the arrival of its Intel 4 technology, which uses extreme ultraviolet (EUV) technology, and the first use of EUV in high-volume manufacturing (HVM) in Europe.
09/29/2023 | Siemens
Siemens Digital Industries Software announced new certifications and collaborations with longtime partner TSMC, resulting in the successful qualification of multiple industry-leading Siemens EDA product lines for the foundry's latest process technologies.
09/29/2023 | USPAE
In a major initiative to innovate how the Department of Defense (DoD) spurs commercial technology development, the U.S. Partnership for Assured Electronics (USPAE) and DoD launched a Defense Business Accelerator (DBX) to open doors for industrial base growth and stimulate private investment.