I-Connect007 Editor's Choice: Five Must-Reads for the Week
November 4, 2022 | Andy Shaughnessy, Design007 Magazine
Estimated reading time: 2 minutes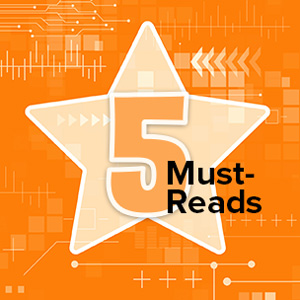 We're officially in show season and Managing Editor Nolan Johnson just got back from SMTA International. As he says in his review, the show drew a sizeable crowd this year. With the pandemic in the rear-view window, let's hope our trade shows are getting back to normal.
This week, we have articles about everything from the first flexible circuit patent to the CHIPS Act, a growing PCB broker, and a look at whether manufacturers believe that we're in a recession or not (Hint: We are officially in a recession.). 
Check back for more show coverage.
Flexible Thinking: The Chameleon of Interconnection Technologies
Published November 3
In this column, Joe Fjelstad discusses the earliest flexible circuit patent, which dates to 1903. The patent for "Improvements in, or Connected with, Electric Cables and the Joining of Same" was originally designed for the new telephone industry, but as Joe explains, flex is quite a chameleon.
American Made Advocacy: The CHIPS Act is Just the Beginning
Published November 3
As Travis Kelly explains in this column, the CHIPS and Science Act is really just the first step of a long marathon. The U.S. now only manufactures 4% of the PCBs in the world, down from 30% a few decades ago, and that number will continue to head further south unless we take some definite action, and now.
SMTAI: Like a Tesla in a Drag Race
Published November 3
Nolan Johnson spent the last few days at SMTA International, back for its second year in Minneapolis. Now that the pandemic is over, SMTAI is back, and as Nolan, reports, even the weather cooperated. If you couldn't make it to the show, check out our video coverage of SMTAI on our Real Time with… SMTAI site.
IPC: One-Fourth of Electronics Manufacturers Believe We are in a Recession
Published November 1
It doesn't feel like a recession. But it's not exactly a state secret that we are in a recession, which is officially defined as two back-to-back quarters of negative GDP. We've had that, but as one company owner told me recently, "If this is a recession, I'll take it." 
Millennium Circuits on The Move
Published October 31
I recently met with Daniel Thau, CEO and founder of PCB broker Millennium Circuits. In this interview, Daniel gives us the background on this company that founded at the tender age of 21, and the company's focus on providing complex PCBs very quickly.
---
Suggested Items
09/28/2023 | Nolan Johnson, I-Connect007
The practical question around CHIPS Act development and electronics assembly is, "Will this change how we do business?" Indium Corporation's Dr. Andy Mackie sat down with Nolan Johnson to share what he sees as emerging answers to that question from his perspective as an expert in electronics assembly and packaging, and as a participant in standards development through IPC, JEDEC, and SEMI.
09/28/2023 | IPC
IPC continues to collaborate with the electronics manufacturing industry to meet their current and future workforce training needs.
09/28/2023 | IPC
Though product demand weakened this month with Orders and Backlog Indexes slipping, overall electronics industry operations remain healthy per IPC's September 2023 Global Sentiment of the Electronics Supply Chain Report.
09/27/2023 | Cherie Litson, CID+, Litson1 Consulting
Rigid-flex circuits are unique structures; part rigid board and part flex, they're increasingly working their way into many of the electronic devices we use every day. There have been many advances in rigid-flex lately as more companies find themselves exploring this technology. So, before I started writing this article about rigid-flex design, I double-checked a few things. Fortunately, there is plenty of rigid-flex information available on a variety of great websites that we all know and trust.
09/18/2023 | IPC
IPC Day France: Aerospace Electronics is an aerospace-focused networking event featuring key industry experts from NASA and Airbus and will take place on October 2, 2023 .