I-Connect007 Editor's Choice: Five Must-Reads for the Week
November 18, 2022 | Andy Shaughnessy, Design007 Magazine
Estimated reading time: 2 minutes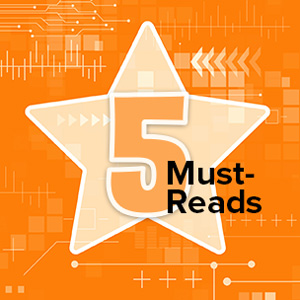 We're heading into the holiday season, and tradeshow season is in full swing. Managing Editor Nolan Johnson and technical editor Pete Starkey have spent the week in Munich covering electronica, and apparently the attendance was wunderbar. COVID still persists, but everyone is ready to return to some normalcy. 
There's a lot going on in our industry. In this week's roundup, we have articles on everything from rigid-flex to the supply chain, as well as a primer on the role of physics in PCB design. As we move into the new year, you should check out this Top 10 list of tech trends for 2023, courtesy of Gartner.
I hope all my friends in the colonies have a Happy Thanksgiving! 
Electronica: Picking Up Where We Left Off
Published November 18
Are industry events getting back to some semblance of normalcy? It's looking that way. The last few events we've covered have posted good attendance numbers, and the electronica show in Munich kept that positive vibe going, as Nolan Johnson explains here. Let's hold a good thought for next year's conferences and trade shows. 
The Physics of PCB Design
Published November 17
There's been a bigger focus on the fundamentals of physics lately, as issues like thermal management become more prevalent. But do PCB designers really need to understand Maxwell's equations and Ohm's law? We have a great interview with Eric Bogatin, who explains how designers can learn the fundamentals of physics without letting the math "get in the way."
Gartner Identifies the Top 10 Strategic Technology Trends for 2023
Published November 18
Gartner has been tracking data and trends in the electronics industry for decades, and they seem to get quite a bit right over time. They recently gazed into their crystal ball and released their Top 10 Strategic Technology Trends for 2023. Artificial intelligence figures into three of these predictions, including sustainability. Check it out.
Your Shortage Is Someone Else's Excess
Published November 16
Remember when excess inventory was a big problem? We've been dealing with shortages and long lead times for so long that it's easy to get tunnel vision about this. In this article, Chintan Sutaria takes a wide-angled look at the supply chain and our almost impossible quest to have neither shortage nor excess of PCB parts. If you feel as if you're tilting at windmills now, you're not alone.
DownStream Flexes in Rigid-Flex
Published November 14
In this interview from PCB West, DownStream Technologies' Joe Clark and Mark Gallant discuss their latest tool updates in the rigid-flex arena, including inter-layer SI analysis. As Joe half-jokingly points out, with this sort of functionality, DownStream may be on its way to becoming an EDA layout software company. Lots of things happening in post-processing now.
---
Suggested Items
09/29/2023 | USPAE
In a major initiative to innovate how the Department of Defense (DoD) spurs commercial technology development, the U.S. Partnership for Assured Electronics (USPAE) and DoD launched a Defense Business Accelerator (DBX) to open doors for industrial base growth and stimulate private investment.
09/28/2023 | KYZEN'
KYZEN, the global leader in innovative environmentally friendly cleaning chemistries, is proud to announce that it is sponsoring the Women's Leadership Program Connection Reception to be held at SMTA International.
09/28/2023 | TSMC
TSMC announced the new 3Dblox 2.0 open standard and major achievements of its Open Innovation Platform (OIP) 3DFabric Alliance at the TSMC 2023 OIP Ecosystem Forum.
09/28/2023 | SIA
The Semiconductor Industry Association (SIA) announced Geoff Martha, chairman and CEO of healthcare technology leader Medtronic, will be the keynote presenter at the 2023 SIA Awards Dinner on Thursday, Nov. 16 in San Jose, Calif.
09/28/2023 | GlobalFoundries
GlobalFoundries (GF) announced the official opening of a new hub facility in Penang, Malaysia.