I-Connect007 Editor's Choice: Five Must-Reads for the Week
January 13, 2023 | Nolan Johnson, I-Connect007
Estimated reading time: 2 minutes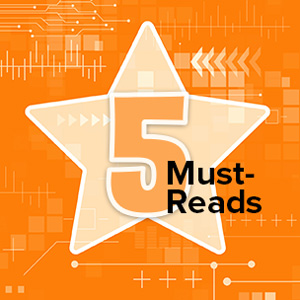 "New year, new you." That tagline seems to be everywhere right now. All five must reads this week reflect this theme. Does this apply to you and your company? 
We have quite a duke's mixture of articles. We've got AT&S outlining their market position on advanced packaging, and Auburn University doing research on smart manufacturing processes. Keysight is coordinating practical 6G research in Europe, Technica shares where they see the market growing, and SEMI adds new members to a key board responsible for market guidance. These five stories drew a lot of reader attention this week. 
We only have one more normal work week, and then we're on the road. We hope to see you all at IPC APEX EXPO in San Diego. If you're at the show, stop by and see us! 
High-performance Computers: AT&S Works on Microchips of the Future
Published January 9 
This announcement from AT&S defines the current semiconductor development challenges, and presents their vision of heterogenous integration. Though not naming any specifics, AT&S stakes claim as a leading force in developing these technologies. It is my opinion that this is more of a position statement than anything else, alerting us to what is to come from a major supplier of printed circuit boards and substrates.
How Smart are Your Manufacturing Processes?
Published January 6 
The Interdisciplinary Center for Advanced Manufacturing Systems at Auburn University is looking for help with an extensive study on smart manufacturing processes across multiple manufacturing disciplines. The U.S. DoD is a key sponsor for this study. According to the news item, the survey takes 10 minutes and does not ask for sensitive information. If you participate they promise to share the final report with you as well.  
Keysight Coordinates Pan-European 6G Testbed
Published January 6 
Seems 5G is just rolling out, and already 6G work is underway. Among 35 projects authorized by the European Commission's Smart Networks and Services Joint Undertaking (SNS JU), 6G-SANDBOX, is a pan-European testbed for 6G experimentation and validation of 5G-Advanced and 6G capabilities. As a part of 6G-SANDBOX, Keysight will act as the project coordinator. For me, the news itself was interesting, but the extensive line of quotes from project participants were a snapshot into European thinking on 6G. 
Real Time with… IPC APEX EXPO: Technica Keeps the Heat on a Hot Market
Published January 9 
As the leader of a firm representing multiple equipment and supplies manufacturers in both the EMS and PCB fab markets, Technica USA president and CEO, Frank Medina, has a commanding view of what's happening in the industry. In this Real Time with... IPC APEX EXPO 2023 preview, I asked Frank what's hot in the industry, and what visitors can expect to see from Technica at IPC APEX EXPO in San Diego.  I'll give you a hint: Not only is the EMS market expanding, but so too is PCB fabrication, and automation is on the minds of both groups of customers. 
SEMI Board Welcomes New Members From Advantest, TEL US, Westerwood Global
Published January 10
The SEMI North America Advisory Board (NAAB) has added three new members:  Colin Ritchie (Advantest); (Tokyo Electronic Ltd. US); and Nigel Wenden, (Westerwood Global).  The NAAB Board provides guidance on SEMI Americas programs designed to advance the business interests of member companies and address significant challenges in the electronics manufacturing and design supply chain. Semiconductor continues to be the headwaters of the manufacturing flow, the new board members represent equipment, materials and technical staffing services, all three critical factors in growing U.S. based semiconductor manufacturing. 
---
Suggested Items
09/29/2023 | Intel
Intel celebrated the arrival of its Intel 4 technology, which uses extreme ultraviolet (EUV) technology, and the first use of EUV in high-volume manufacturing (HVM) in Europe.
09/29/2023 | Dixon
Dixon wholly owned subsidiary- Padget Electronics Private Limited enters into an Agreement with Xiaomi to carry out manufacturing of smart phones and other related products for Xiaomi.
09/28/2023 | Technica USA
Technica USA announced it has reached a Master Distribution Agreement with SAA to promote and support automation systems & technology offered by SAA.
09/28/2023 | GlobalFoundries
GlobalFoundries (GF) announced the official opening of a new hub facility in Penang, Malaysia.
09/28/2023 | IPC
IPC continues to collaborate with the electronics manufacturing industry to meet their current and future workforce training needs.