Classes and Meetings Under Way at IPC APEX EXPO
January 23, 2023 | Andy Shaughnessy, Design007 Magazine
Estimated reading time: 1 minute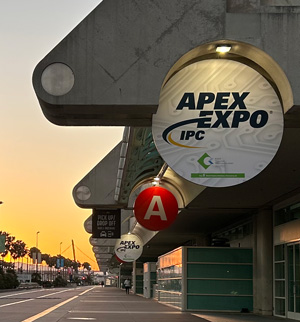 IPC APEX EXPO 2023 doesn't officially kick off until Tuesday, but there's plenty of action going on here at the San Diego Convention Center. 
Booths are sprouting up on the show floor, and exhibitors are starting to arrive. Upstairs, committee meetings have been taking place all weekend; the IPC-J-STD-001 and IPC-A-610 Joint Task Group, and IPC-A-600 and IPC-6012 Joint Task Group meetings, were abuzz with activity. 
The members of the 001-610 group boasted 168 people, and they really seemed to enjoy what could have been a boring day looking at standards minutiae. The voting process was something to see, with members waving green cards of approval for changes. It was all very democratic. I heard far more laughter than I had expected. If you'd like to get involved with the standards development process, the committee chairs would welcome your help.
The Professional Development classes began on Sunday, covering everything from design through assembly processes, flex and rigid-flex, and technologies of the future. We interviewed some of the committee members and class attendees, including a few first-time attendees, and we'll have these interviews published soon. 
We're starting to see groups of engineers walking around the Gaslamp District with their show badges, but the real crowds won't be here until tomorrow. A few people I spoke with said they think this show marks the return to a pre-pandemic state of mind, and very few people are wearing masks here. With no rain in the forecast, the week is looking good.
---
Suggested Items
10/02/2023 | KYZEN'
KYZEN, the global leader in innovative environmentally friendly cleaning chemistries, announced that Debbie Carboni, Global Product Line Manager - Electronics, will present as part of the Electric Vehicle (EV) panel during the IPC High Reliability Forum.
10/02/2023 | PRNewswire
The asset transfer acquisition will bring Bliley's equipment, people, and IP under the KYOCERA AVX umbrella and allow KYOCERA AVX to produce the same high-quality electronic components that made Bliley a global leader.
09/28/2023 | Nolan Johnson, I-Connect007
The practical question around CHIPS Act development and electronics assembly is, "Will this change how we do business?" Indium Corporation's Dr. Andy Mackie sat down with Nolan Johnson to share what he sees as emerging answers to that question from his perspective as an expert in electronics assembly and packaging, and as a participant in standards development through IPC, JEDEC, and SEMI.
09/28/2023 | IPC
IPC continues to collaborate with the electronics manufacturing industry to meet their current and future workforce training needs.
09/28/2023 | IPC
Though product demand weakened this month with Orders and Backlog Indexes slipping, overall electronics industry operations remain healthy per IPC's September 2023 Global Sentiment of the Electronics Supply Chain Report.