Don't Blink: The IPC APEX EXPO Time-lapse
January 31, 2023 | Nolan Johnson, I-Connect007
Estimated reading time: Less than a minute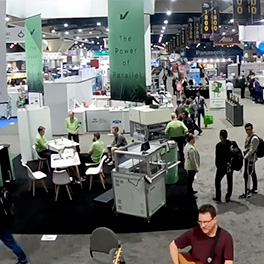 It's a tradition here at I-Connect007 to set up a time-lapse for IPC APEX EXPO. There's something satisfying, mesmerizing even, to watch the show floor build out and see the moment when the doors open and visitors fill the exhibit hall. Based on what others have said over the years, I know I'm not the only one whose favorite part is when the carpet gets rolled out and the whole character of the exhibition changes. This time lapse starts on the Saturday prior and continues through the Thursday tear-down phase.  
The time-lapse location has varied over the years. This year's time-lapse comes to you from the I-Connect007 booth, directly above the video studios, on the main aisle of the show. This vantage point illustrates just how vibrant the hall was over the course of the three-day exhibition. 
We hope you enjoy this two-minute peek into a week as an exhibitor at IPC APEX EXPO 2023. And we'll see you next April in Anaheim.
---
Suggested Items
10/02/2023 | KYZEN'
KYZEN, the global leader in innovative environmentally friendly cleaning chemistries, announced that Debbie Carboni, Global Product Line Manager - Electronics, will present as part of the Electric Vehicle (EV) panel during the IPC High Reliability Forum.
10/02/2023 | PRNewswire
The asset transfer acquisition will bring Bliley's equipment, people, and IP under the KYOCERA AVX umbrella and allow KYOCERA AVX to produce the same high-quality electronic components that made Bliley a global leader.
09/28/2023 | Nolan Johnson, I-Connect007
The practical question around CHIPS Act development and electronics assembly is, "Will this change how we do business?" Indium Corporation's Dr. Andy Mackie sat down with Nolan Johnson to share what he sees as emerging answers to that question from his perspective as an expert in electronics assembly and packaging, and as a participant in standards development through IPC, JEDEC, and SEMI.
09/28/2023 | IPC
IPC continues to collaborate with the electronics manufacturing industry to meet their current and future workforce training needs.
09/28/2023 | IPC
Though product demand weakened this month with Orders and Backlog Indexes slipping, overall electronics industry operations remain healthy per IPC's September 2023 Global Sentiment of the Electronics Supply Chain Report.