Books

Featured Books

pcb007 Magazine

Latest Issues

Current Issue

Finding Ultra

New demands on PCB fabrication, namely advanced packaging, ultra high density interconnect (UHDI), and new specialty materials, are converging, changing the landscape of our business. Is it time to start paying close attention to this convergence?

Developing a Strategy

A solid strategy is a critical part of success. This month, we asked some of the top industry leaders and business strategy "gurus" to share their thoughts on developing strategies.

Winning With TQM

In this issue, we explore how TQM has entered the DNA of continuous improvement disciplines, and the role leadership transformation plays in this. If you've ever competed against a TQM company, you understand their winning advantage.

Columns

Latest Columns

||| MENU
Estimated reading time: 5 minutes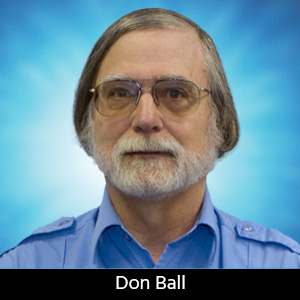 April 13, 2023
The Chemical Connection: Chemical Control for Wet Processes
As I've mentioned in previous columns, etching can be the most complex process in the wet processing stages because there are many factors that contribute to your etch rate. Without keeping these contributing factors steady, your etch rate will vary and, therefore, so will your product quality. If you are looking to implement an automated approach to maintaining your etch chemistry, here are the basic concepts you will need to understand.
The Structure of Control
Most, if not all, process control systems rely on a simple feedback loop. Through this loop, we get a clear approach to process control. In Figure 1, you can see that we initially go through a monitoring stage. At this stage, we look to see if all the desired parameters meet specifications. If they do, then the process can continue normally. However, if something does not meet specifications, it will initiate a process to make the necessary changes. With this change being identified, it goes into an "adjusting" process. After adjustments, the parameter is monitored again to ensure that it meets requirements. This process will repeat until the desired outcome is obtained. This is only a rudimentary version of the feedback loop, meaning that this can become more complex given a certain process. What the process will look like may differ, but conceptually, the processes should remain similar.
Implementing Control
Now that we have the base structure of process control, how can we apply it to our etching process? In etch chemistry control, there will be multiple feedback loops involved. This is because each parameter of the etchant has its own method of control. Every etchant available has its own set of parameters. Before you get started with an approach to process control, you will need to first evaluate all the parameters that contribute to etch quality. The most common parameters you will see in an etchant are shown in Table 1, along with their monitoring methods and ways to control them. It should be noted that temperature and spray pressure are major contributing factors to etch quality, but these parameters are automatically controlled in all etching equipment; therefore, they will not be covered.
From the table, you will notice most of the parameters in etching have a specific measurement tool that makes the monitoring stage simple. Since each factor monitored describes a contributing chemical in your etchant, most cases just require adjustments through adding the lacking chemical. This makes it simple because, with a proper monitoring system, you can link it to a pump that will trigger when it is out of range. This will provide a simple system to restore the chemical contents of your etchant. There are some exceptions to this because, in some cases, the link between monitoring and adjusting is not so direct. With factors such as chloride and free HCl content, it is harder to simply monitor them; therefore, the adjusting of those factors will have to be done differently. If one of these factors were found to be out of range after performing a titration, you would likely have to manually add the chlorides or HCl into the machine.
Along with that, if your process technicians do not perform the titrations regularly, then you can be out of range without knowing it. To avoid this, there is another option where instead of queuing chemical additions manually after titrations, you could simply add a certain amount of those reagents after a specific number of panels are run. This would need some fine-tuning for your process and thus require some testing and trial-and-error. Once you have nailed it, that factor of the process becomes much easier to control. Despite the fine-tuning, you will need to continue monitoring the contents to account for any variations that can occur during the etch process.
To Regenerate or Not to Regenerate
The next major contributing factor is ORP. As discussed before, ORP is the measurement of your ready-to-etch etchant and your spent etchant. As the spent etchant dilutes your etchant bath, etching becomes less efficient. Therefore, it is important to keep a steady ORP factor for a consistent etch process. To do this, you will have to consider whether you are able to regenerate your etchant. The PCB etching process primarily consists of cupric chloride or alkaline cupric chloride; you have the option to regenerate your etchant and therefore have an easier time keeping your ORP consistent. If you are utilizing an uncommon PCB etchant, such as ferric chloride, you will not be able to effectively regenerate your etchant. This is because of an unwritten rule that is in etching chemistry. The rule is that it is ideal to use etchants that are more "alike" to the metal you are trying to etch. This means the metals you etch should have the same metals in the etchant, if that is possible. This is because the larger the number of different components dissolved in the etchant, the more difficult it becomes to monitor the etchant effectively and to perform regeneration.
For example, if you etch copper with cupric chloride, the copper can be directly used to make more cupric chloride. However, if you etch with ferric chloride instead, the iron content of the etchant would become less concentrated because you are adding copper into the solution—this gets in the way of regeneration and develops complications. If you are using an etchant that is not copper based, you will likely have to settle for what is referred to as the "feed and bleed" process to control your ORP. This is simply a method where after so many panels are etched, some of the used etchant will be pumped out of the machine as fresh etchant is pumped in. Once fine-tuned, this process allows you to maintain a steady state for your process to remain consistent.
Conclusion
From this brief introduction to etchant chemical control, you should have a fair understanding of how you would implement controls in your etching process. With tools such as normal monitoring methods, control based on panel count, and "feed and bleed," you should be capable of mapping out a chemical control method that works for nearly any etch process.
This column originally appeared in the March 2023 issue of PCB007 Magazine.