Books

Featured Books

smt007 Magazine

Latest Issues

Current Issue

Chips Don't Float

In Europe and the U.S., legislation is under way to revitalize PCB fabrication and packaging. What is the status of this work, and how specifically does this change the industry landscape for EMS companies? What will help keep us afloat?

Flying High With Digital Twin

The opportunity to use manufacturing simulation as a test bed for job planning and process optimization brings continuous improvement into the modern age. This may be an all-or-nothing type of project, but it's worth the investment.

Artificial Intelligence

In this issue, we (and AI) explored how and when artificial intelligence plays a role in manufacturing today. Whether on the factory floor, or in the front office, AI applications are emerging and changing how we approach planning, processes and problem solving.

Columns

Latest Columns

||| MENU
Hentec/RPS Publishes Achieving Greater Through-Hole Soldering Reliability Tech Paper
March 28, 2023 | Hentec Industries/RPS Automation
Estimated reading time: Less than a minute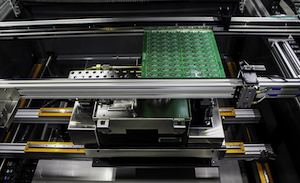 Hentec Industries/RPS Automation, a leading manufacturer of selective soldering, lead tinning and solderability test equipment, announces that it has published a technical paper describing the suggestion that electronic manufacturers should implement automated selective soldering as opposed to using manual soldering. This technical paper encompasses critically important information and is entitled "Achieving Greater Through-Hole Soldering Reliability Without Sacrificing Throughput."
Topics covered within this publication include soldering methods, manual soldering, hand soldering reliability, process considerations, versatility vs. throughput, fluxing control, process repeatability, and selective soldering system flexibility.
---
Suggested Items
09/29/2023 | Indium Corporation
Indium Corporation Regional Product Manager Wisdom Qu will present at the SMTA China South Technical Conference, held in conjunction with NEPCON Asia, on October 11 in Shenzhen, China.
09/21/2023 | Thermaltronics USA, Inc.
Thermaltronics USA, Inc., a globally acclaimed manufacturer of Precision Soldering Robots and innovative Curie point soldering systems, is excited to announce its participation in the highly anticipated SMTA Guadalajara Expo & Tech Forum, scheduled to take place from October 25-26, 2023.
09/20/2023 | ULT AG
At this year's productronica, the world's leading trade show for electronics manufacturing, ULT will present a brand new extraction solution for solder fumes and vapor.
09/20/2023 | Hentec Industries/RPS Automation
Hentec Industries/RPS Automation, a leading manufacturer of selective soldering, component lead tinning and solderability test equipment, announces that it has added assembly and production staff members to its team to accommodate its recent increase in sales and order demand.
09/14/2023 | Peters
For Peters, the new Reflow 1.8. soldering machine from SEHO is an investment in the future. Like its predecessor, this machine is used in the laboratory for testing high-quality solder resists. Before the coatings are entrusted to the customers, Peters performs a thermal soldering simulation.