A Quantic Leap into Foils and Embeddeds With John Andresakis
March 29, 2023 | Andy Shaughnessy, Design007 Magazine
Estimated reading time: 4 minutes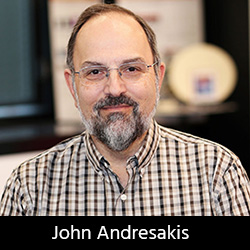 Andy Shaughnessy talks with John Andresakis about how the merger of resistive foil technologies from Ohmega and Ticer has evolved under the new ownership of Quantic. Andresakis also shares how these materials are finding new applications, especially in the embedded component application space, as the company reaches out to the new generation of PCB designers and design engineers.
Andy Shaughnessy: John, it's been a long time since we talked last. Now you're with a different company, Ohmega. Tell me about it.
Andresakis: Yes, that's right. I'm the director of business development for Quantic Ohmega Ticer. A lot of people know Ohmega and Ticer because of their resistive foil technology. A couple of years ago,  Arcline investment acquired Ohmega, and then soon after that they bought Ticer and put them under the Quantic group to bring both resistor technologies under one umbrella. The difference is that Ohmega is a plated nickel phosphorous technology and the Ticer approach is a nickel chrome that's sputtered onto the copper. We can use various copper foils based on what material we need to adhere to and electrical performance.
Shaughnessy: This is a little bit different from what you've been doing before.
Andresakis: Yes, I recently came from DuPont, working on laminate materials for the flex and rigid segments of the industry. We also sold embedded capacitor materials, and now I'm working with embedded resistor materials. I've kind of been in the embedded business for quite a while and when I worked at Oak-Mitsui we actually were­–and continue to be now that they're Denkai America–the copper supplier to the Ohmega and Ticer technology. So we have a good partnership. We can use a number of copper sources, but they're the main supplier of our copper foil to make our material.
Shaughnessy: Now you have a new set of customers. Are you seeing different challenges from these customers?
Andresakis: What we're seeing now is very similar to what copper foil suppliers have been seeing, in that the higher performance materials require lower profile coppers to adhere to their materials. Our material is the interface between the copper foil and the laminate material. We've been doing a lot of work in that area to make sure that we have good adhesion to the laminate substrate, and people are putting it into higher performance work. For example, we are on PTFE as well as PPO based materials. We can also be put on polyimide flex materials; it all depends on the application. 
And we're seeing new applications. When the technology first started out it was mainly for resistors in very high-end systems. It's been used in several space applications; we have material circling the earth and even have material on Mars. It's very robust and very reliable and it helps with miniaturization and electrical performance. For any place where space and weight are a problem, it's a great technology, but it's also seeing more use in commercial applications, like in high-end MEMS microphones. 
The technology has been around for decades; it's not new technology. Now that people are trying to improve electrical performance at higher frequencies, it's coming into its own. We're seeing it used in flat panel antennas, optimizing out the resistor elements to get much better electrical performance. It can also be an RF/MW absorber material.  Micro-heaters are another application. There are applications where you want spot heating (such as medical and space) where you can actually embed a heater. In space, for example, it's pretty cold up there. So, if you want to heat circuits–if a circuit or an IC needs a certain temperature to operate, you can locally warm from inside the circuit. Just a few examples where we're seeing the need for this type of material.
Shaughnessy: What is Ohmega demonstrating at DesignCon now?
Andresakis: We're showing our different materials and their applications. People know us for resistors, but we're trying to show the use of our resistive materials like RF microwave-type application. You can use it for a power divider circuit. The idea is we're trying to spur the creativity inside the designer's head, let them know the materials are there and some of its attributes so they can add it to their toolbox. Designers always need more tools to get their job done. As an example, we came out with a product that is a termination resistor. It's a 10-ohm material that you can put right at the end of the trace. So, if you need terminating resistors on the surface, now you can build that right into the circuit. If space is an issue, this allows you to take advantage of this design. While a lot of people know about the technology, our current challenge is to reach a whole new group of designers who haven't been exposed to it.
Shaughnessy: Sounds like you hit the ground running in this company.
Andresakis: Yes, it's great working with the combined Ticer and Ohmega teams.  We also now have the parent company in Quantic, with companies that make discrete capacitors, RF and microwave modules and other devices, so we have some cross business unit synergies which helps. We can try a new concept with them or do joint marketing in certain areas. Having that corporate group brings additional depth to our organization that we didn't have before. That helps quite a bit.
Shaughnessy: Great talking with you John. Thanks.
Andresakis: Thank you, Andy.                                  
---
Suggested Items
09/28/2023 | Anaya Vardya, American Standard Circuits
There has always been pressure to reduce line and space as we have seen the bleeding edge technology go from 8 mils to 5 mils and then to 3 mils. The difference between "then" and "now" is that the prior advancements, for the most part, used the same processes, chemistry and equipment going from 8 mils to 3 mils. But going from 3 mil to sub 1 mil trace and space is a quantum leap in printed circuit board (PCB) technology that requires a whole new set of processes and materials.
09/28/2023 | Michael Carano -- Column: Trouble in Your Tank
In a previous column, the critical process of desmear and its necessity to ensure a clean copper surface connection was presented. Now, my discussion will focus on obtaining a void-free and tightly adherent copper plating deposit on these surfaces. After the desmear process, the task is to insure a continuous, conductive, and void-free deposit on the via walls and capture pad. Today, there are several processes that can be utilized to render vias conductive.
09/20/2023 | I-Connect007 Editorial Team
Panasonic's Darren Hitchcock spoke with the I-Connect007 Editorial Team on the complexities of moving toward ultra HDI manufacturing. As we learn in this conversation, the number of shifting constraints relative to traditional PCB fabrication is quite large and can sometimes conflict with each other.
09/14/2023 | MKS' Atotech
MKS' Atotech, a leading surface finishing brand of MKS Instruments, will participate in the upcoming IPCA Expo at Bangalore International Exhibition Centre (BIEC) and showcase its latest PCB manufacturing solutions from September 13 – 15.
09/14/2023 | Vern Solberg -- Column: Designer's Notebook
Flexible circuit applications can be as basic as furnishing electrical interconnect between two conventional circuit board assemblies, or to prove a platform for placing and interconnecting electronic components. During the planning and pre-design phase of the flexible circuit, there will be several material and process related questions that need to be addressed. Most flexible circuit fabricators welcome the opportunity to discuss their customers' flexible circuit objectives prior to beginning the actual design process.