Books

Featured Books

smt007 Magazine

Latest Issues

Current Issue

Chips Don't Float

In Europe and the U.S., legislation is under way to revitalize PCB fabrication and packaging. What is the status of this work, and how specifically does this change the industry landscape for EMS companies? What will help keep us afloat?

Flying High With Digital Twin

The opportunity to use manufacturing simulation as a test bed for job planning and process optimization brings continuous improvement into the modern age. This may be an all-or-nothing type of project, but it's worth the investment.

Artificial Intelligence

In this issue, we (and AI) explored how and when artificial intelligence plays a role in manufacturing today. Whether on the factory floor, or in the front office, AI applications are emerging and changing how we approach planning, processes and problem solving.

Columns

Latest Columns

||| MENU
Indium to Showcase Proven EV Products, High-Reliability Alloys at productronica China
April 3, 2023 | Indium Corporation
Estimated reading time: 1 minute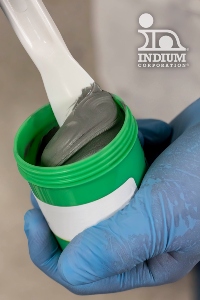 Indium Corporation is proud to showcase its innovative products and expertise for the rapidly evolving electric vehicle manufacturing and e-Mobility market, including cutting-edge high-reliability alloys, at productronica China, April 13-15, in Shanghai.
With its significant automotive industry expertise and an award-winning portfolio of proven products, Indium Corporation will feature its Rel-ion™ suite of electrical, mechanical, and thermal solutions which are designed to be reliable, scalable, and proven materials to reduce electric vehicle (EV) manufacturers' time to market.
More than three million EVs are on the road with Indium Corporation's Rel-ion products. Rel-ion material solutions deliver reliability by:
Eliminating non-wet opens and head-in-pillow defects
Preventing dendritic growth by meeting stricter surface insulation resistance requirements
Preventing solder delamination with precise bondline control and increased creep and fatigue resistance
Reducing hot spots-induced voiding through improved thermal efficiency
Some of the Rel-ion suite products include:
Award-winning Durafuse® LT, a novel solder paste mixed alloy system with highly versatile characteristics that enable it for energy savings, high-reliability, low-temperature, step soldering, and assemblies with large temperature gradients. It also provides superior drop shock performance as compared to conventional low-temperature solders, outclassing BiSn or BiSnAg alloys, and performing better than SAC305 with optimum process setup.
The Indium8.9HF Solder Paste Series, an industry-proven solder paste series that delivers no-clean, halogen-free solutions designed to enhance electrical reliability, improve stability during the printing process, and deliver low-voiding for high-reliability automotive electronics.
InFORMS®, reinforced solder alloy fabrications, improve mechanical and thermal reliability, and are specifically designed to produce consistent bondline thickness for power module applications. They also address specific challenges for the power electronics industry by providing an enhanced material for the development of more reliable and higher performance modules.
Heat-Spring® solutions, ideal for TIM2 applications, are a compressible interface between a heat source and a heat-sink. These indium-containing TIMs offer superior thermal conductivity over non-metals—with pure indium metal delivering 86W/mK.
---
Suggested Items
09/26/2023 | Conecsus Metals México
Conecsus Metals México, an innovative environmental technology and recycling company, will exhibit at the SMTA Foro Tecnico & Expo, Guadalajara, Jalisco, México, on Wednesday, October 25, 2023, beginning at 11:00 a.m.
09/21/2023 | Thermaltronics USA, Inc.
Thermaltronics USA, Inc., a globally acclaimed manufacturer of Precision Soldering Robots and innovative Curie point soldering systems, is excited to announce its participation in the highly anticipated SMTA Guadalajara Expo & Tech Forum, scheduled to take place from October 25-26, 2023.
09/20/2023 | ULT AG
At this year's productronica, the world's leading trade show for electronics manufacturing, ULT will present a brand new extraction solution for solder fumes and vapor.
09/20/2023 | Hentec Industries/RPS Automation
Hentec Industries/RPS Automation, a leading manufacturer of selective soldering, component lead tinning and solderability test equipment, announces that it has added assembly and production staff members to its team to accommodate its recent increase in sales and order demand.
09/19/2023 | SMTA
SMTA is honored to announce Qais Qasaimeh, a graduate student at Auburn University, has been selected as the winner of the 2023 Charles Hutchins Educational Grant.