Books

Featured Books

pcb007 Magazine

Latest Issues

Current Issue

Finding Ultra

New demands on PCB fabrication, namely advanced packaging, ultra high density interconnect (UHDI), and new specialty materials, are converging, changing the landscape of our business. Is it time to start paying close attention to this convergence?

Developing a Strategy

A solid strategy is a critical part of success. This month, we asked some of the top industry leaders and business strategy "gurus" to share their thoughts on developing strategies.

Winning With TQM

In this issue, we explore how TQM has entered the DNA of continuous improvement disciplines, and the role leadership transformation plays in this. If you've ever competed against a TQM company, you understand their winning advantage.

Columns

Latest Columns

||| MENU
IPC Issues Call for Participation for High Reliability Forum
April 13, 2023 | IPC
Estimated reading time: 2 minutes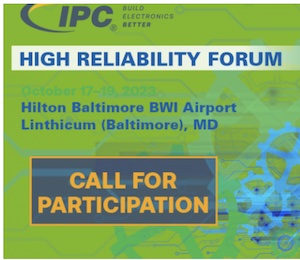 IPC is now accepting abstracts for the High Reliability Forum, the international conference focusing on Class 3 and safety critical electronics for mil-aero, automotive, medical, and long-life applications that are subjected to harsh use environments. The High Reliability Forum will be held October 17-19, 2023, at the Hilton Baltimore BWI Airport in Linthicum (Baltimore), Md.
IPC invites innovators and technologists to submit an abstract for a technical presentation during the conference. The IPC High Reliability Technical Forum Program Committee seeks proposals for technical presentations on the following topics:
High Reliable Materials: PCB Fabrication Materials, Interconnecting, Bonding, Thermal/Power Management, Conductivity/Resistivity, Use Conditions/Environment (A&D vs. Automotive vs. Medical/Implantable vs. High Perf Computing, etc.), Environmental Restrictions/Impact, Substrates for Advanced Packaging
Design and Fabrication for High Reliability: Materials Compatibility, Flexible Printed Boards in RF/Microwave Applications, Design for Reliability/Determining Reliability Requirements, System of Systems Architecture, Levels of Redundancy, HDI/Microvia Reliability -- Test Methods and Design Rules, Micro HDI and Substrate Technologies, First Level Interconnect Methodologies; Use of Simulation in the Design Process, Automotive/High Voltage Applications
Assembly for High Reliability: Next Generation Solder Alloys, Solder Paste and Coating Selection for High Reliability, Reliability of Cleaning, Testing and Coating Strategies, Assembly Materials -- Coating, Cleaning, Underfilling, Encapsulation, Effects of No-Clean Residues, Voiding in Solder Joints, 3D Package Level Reliability, Assembly for Automotive/High Voltage Applications
Testing for High Reliability: Fatigue Behavior and Reliability Testing for Solder Joints using Next Generation Solder Alloys, Harsh Environment Reliability and Testing, Thermal Stress Test Methods, Connector Failure Modes and Reliability, Vibration and Shock Test Methods for Predicting Reliability, HDI/Microvia Reliability, Automotive/High Voltage Applications, Heterogeneous Integration/Advanced Packaging for High Reliability
Issues around Quality, Standards for High Reliability: Supply Chain, Reshoring/Onshoring, Failure Modes Effects Analysis (FMEA), Reliability Assurance and Prediction Workflows, Selection of Appropriate Class of Electronics, Requirements for Specific Class of Electronics, Manufacturing Standards, Emerging Electronic Technologies
"We are thrilled to welcome attendees back to the first High Reliability Forum since 2019," said David Bergman, IPC vice president of standards and technology. "We are eager to see the exciting new work from experts in all areas of the industry including PCB design, fabrication materials, emerging technologies, and other applications with specialized reliability requirements."
Abstracts summarizing original and previously unpublished work must be submitted for consideration to present. Presentations should be non-commercial and describe significant results from experiments, emphasize new techniques, discuss trends of interest, and contain technical and/or appropriate test results. 
Abstracts are due on Monday, June 5, 2023 and will be peer-reviewed by the Technical Program Committee. Accepted abstracts will be invited to deliver a podium presentation in person at the High Reliability Forum in Linthicum Heights, Maryland, October 17-19, 2023. 
---
Suggested Items
09/29/2023 | Indium Corporation
Indium Corporation Regional Product Manager Wisdom Qu will present at the SMTA China South Technical Conference, held in conjunction with NEPCON Asia, on October 11 in Shenzhen, China.
09/28/2023 | Nolan Johnson, I-Connect007
The practical question around CHIPS Act development and electronics assembly is, "Will this change how we do business?" Indium Corporation's Dr. Andy Mackie sat down with Nolan Johnson to share what he sees as emerging answers to that question from his perspective as an expert in electronics assembly and packaging, and as a participant in standards development through IPC, JEDEC, and SEMI.
09/27/2023 | Nihon Superior Co. Ltd.
Nihon Superior Co. Ltd. is pleased to announce that Keith Sweatman, the company's Senior Technical Advisor, will deliver a presentation titled "A Path to Ductile Low-Temperature Solders for Mass Production of Electronic Assemblies" at the upcoming SMTA International conference and exposition.
09/27/2023 | Hentec Industries/RPS Automation
Hentec Industries/RPS Automation, a leading manufacturer of selective soldering, lead tinning and solderability test equipment, is pleased to announce that Kyocera International has finalized the purchase of a Hentec/RPS Odyssey 1325 robotic hot solder dip component lead tinning machine. 
09/26/2023 | Conecsus Metals México
Conecsus Metals México, an innovative environmental technology and recycling company, will exhibit at the SMTA Foro Tecnico & Expo, Guadalajara, Jalisco, México, on Wednesday, October 25, 2023, beginning at 11:00 a.m.