Books

Featured Books

pcb007 Magazine

Latest Issues

Current Issue

Finding Ultra

New demands on PCB fabrication, namely advanced packaging, ultra high density interconnect (UHDI), and new specialty materials, are converging, changing the landscape of our business. Is it time to start paying close attention to this convergence?

Developing a Strategy

A solid strategy is a critical part of success. This month, we asked some of the top industry leaders and business strategy "gurus" to share their thoughts on developing strategies.

Winning With TQM

In this issue, we explore how TQM has entered the DNA of continuous improvement disciplines, and the role leadership transformation plays in this. If you've ever competed against a TQM company, you understand their winning advantage.

Columns

Latest Columns

||| MENU
all4-PCB Completes Pentagal HASL Installations
April 24, 2023 | all4-PCB
Estimated reading time: Less than a minute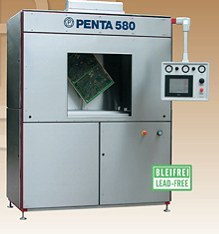 all4-PCB, supplier of PCB process equipment to the North American market, has installed Penta Hot Air Solder Leveling (HASL) systems at Flexible Circuits and Jet Technologies.
The Penta series of HASL equipment, manufactured by Pentagal of Bochum Germany, has a wide process window for panels of different sizes and thicknesses and flexible circuits. In addition to the Penta 580 or Penta 550 for solder coating, Pentagal offers a complete line of support equipment for the HASL process.
Flexible Circuits, Inc, Warrington, PA has been an industry leader in manufacturing flex circuits for over 55 years. Their customer base is mostly in the military and aerospace industries and require high-precision, high-quality flex circuits and assemblies.
Jet Technologies, Inc, New Berlin, WI is a supplier of single sided PCBs up to 18-layer PCBs, with quick turn as a specialty.  As a family-owned business, Jet technologies has been in operation since 1971.
all4-PCB, headquartered in Glendale, CA, partners with their European and Asian suppliers to offer the North America PCB manufacturing base the finest in process equipment.  In addition to equipment sales, all4-PCB also has a fully stocked warehouse of spares and a network of service technicians across North America.
---
Suggested Items
09/26/2023 | Conecsus Metals México
Conecsus Metals México, an innovative environmental technology and recycling company, will exhibit at the SMTA Foro Tecnico & Expo, Guadalajara, Jalisco, México, on Wednesday, October 25, 2023, beginning at 11:00 a.m.
09/21/2023 | Thermaltronics USA, Inc.
Thermaltronics USA, Inc., a globally acclaimed manufacturer of Precision Soldering Robots and innovative Curie point soldering systems, is excited to announce its participation in the highly anticipated SMTA Guadalajara Expo & Tech Forum, scheduled to take place from October 25-26, 2023.
09/20/2023 | ULT AG
At this year's productronica, the world's leading trade show for electronics manufacturing, ULT will present a brand new extraction solution for solder fumes and vapor.
09/20/2023 | Hentec Industries/RPS Automation
Hentec Industries/RPS Automation, a leading manufacturer of selective soldering, component lead tinning and solderability test equipment, announces that it has added assembly and production staff members to its team to accommodate its recent increase in sales and order demand.
09/19/2023 | SMTA
SMTA is honored to announce Qais Qasaimeh, a graduate student at Auburn University, has been selected as the winner of the 2023 Charles Hutchins Educational Grant.