Books

Featured Books

pcb007 Magazine

Latest Issues

Current Issue

Finding Ultra

New demands on PCB fabrication, namely advanced packaging, ultra high density interconnect (UHDI), and new specialty materials, are converging, changing the landscape of our business. Is it time to start paying close attention to this convergence?

Developing a Strategy

A solid strategy is a critical part of success. This month, we asked some of the top industry leaders and business strategy "gurus" to share their thoughts on developing strategies.

Winning With TQM

In this issue, we explore how TQM has entered the DNA of continuous improvement disciplines, and the role leadership transformation plays in this. If you've ever competed against a TQM company, you understand their winning advantage.

Columns

Latest Columns

||| MENU
EPEC Achieves ISO/IEC 27001:2013 Certification
April 27, 2023 | Epec Engineering Technologies
Estimated reading time: 2 minutes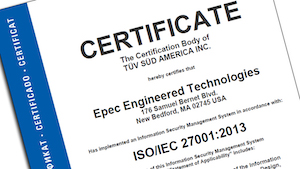 Epec Engineered Technologies, a leading provider of custom electronic solutions, announced today that the company has achieved ISO/IEC 27001:2013 certification, a globally recognized standard for information security management systems. This certification validates Epec's commitment to implementing and maintaining the highest levels of data security for its customers.
"At Epec, we understand that data security is paramount in today's digital landscape," said Ed McMahon, President of Epec Engineered Technologies. "Achieving ISO 27001 certification is a major milestone for our company, and it is a testament to our unwavering commitment to providing our customers with the highest levels of data security."
ISO/IEC 27001:2013 is an international standard for information security management systems (ISMS). It provides a systematic approach to managing sensitive information, including people, processes, and IT systems, in a way that minimizes risks and ensures confidentiality, integrity, and availability of information. The certification process requires organizations to establish, implement, maintain, and continually improve their ISMS, in compliance with ISO 27001 standards.
With this certification, Epec has demonstrated that it has implemented a comprehensive ISMS that meets the highest international standards for information security management. This includes implementing strong access controls, conducting regular risk assessments, performing vulnerability testing and penetration testing, and establishing policies and procedures for incident management and business continuity.
Epec's ISO 27001 certification provides several benefits to its customers. By partnering with Epec, customers can be confident that their sensitive data is protected against unauthorized access, disclosure, and alteration. Additionally, Epec's certification provides customers with an independent validation of the company's data security practices, which can be used to meet regulatory requirements or satisfy audit requirements.
"Our ISO 27001 certification is a competitive advantage for Epec," said McMahon. "It sets us apart from other companies in the industry who may only self-certify to low-level NIST and DFARS standards. With our certification, our customers can have peace of mind knowing that we have taken every possible measure to protect their data."
NIST (National Institute of Standards and Technology) and DFARS (Defense Federal Acquisition Regulation Supplement) are standards that are often used by companies to self-certify their information security practices. However, these standards are not as comprehensive as ISO/IEC 27001:2013, and they do not require the same level of rigor in implementing information security controls.
"Epec's ISO 27001 certification demonstrates our commitment to providing the highest level of data security to our customers," said McMahon. "We will continue to invest in our ISMS to ensure that we maintain this certification and continue to exceed our customers' expectations."
---
Suggested Items
09/26/2023 | Cadence Design Systems, Inc.
Cadence Design Systems, Inc. announced the expansion of its node-to-node design migration flow based on the Cadence® Virtuoso® Studio, which is compatible with all TSMC advanced nodes, including the latest N3E and N2 process technologies.
09/25/2023 | Q Source
Q Source, a provider of custom solutions for the Bio-Medical, Electronic, Pharmaceutical Manufacturing industries, is excited to announce its strategic partnership with XDry Corporation, a renowned dry cabinet manufacturer.
09/22/2023 | Qualcomm Technologies, Inc.
Charter Communications, Inc. and Qualcomm Technologies, Inc., today announced a collaboration to deliver the next-generation Advanced Wi-Fi router that will bring Wi-Fi 7 and 10 Gbps Wi-Fi capabilities to Spectrum Internet users, helping support and enhance the converged connectivity experience for residential and small and medium-sized business customers. Advanced Wi-Fi routers with Wi-Fi 7 are expected to be available to Spectrum customers in 2024.
09/21/2023 | Dymax
Dymax, a leading manufacturer of light-curing materials and equipment, will exhibit in booth 1526 at SMTA International 2023 in Minneapolis, MN, from October 10-11.
09/21/2023 | Altus Group
Altus Group, a leading supplier of capital equipment and services to the electronics manufacturing industry, has signed an agreement with SMT Thermal Discoveries to distribute its advanced reflow soldering and thermal technology solutions in Ireland.