I-Connect007 Editor's Choice: Five Must-Reads for the Week
May 12, 2023 | Andy Shaughnessy, I-Connect007
Estimated reading time: 2 minutes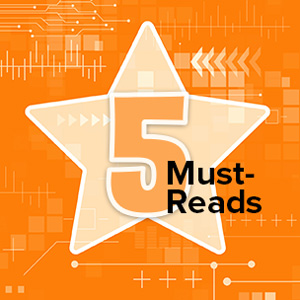 It's not hyperbole to say that there's never a dull moment in the world of PCB design and manufacturing. There's always something interesting happening, and each week our contributors bring us a wide variety of articles, columns, and news items. 
This week's must-reads contains a veritable potpourri of information from around the industry. We have a Pete Starkey review of the latest EIPC webinar on ultra HDI and thin film resistors, an interview with the founder of an electronics trade school in Texas, and an update from PCBAA about their lobbying efforts in Washington.
We also have news about our brand-new podcast, or "pod," as the kids say, and a column about the wisdom of Don Draper that just might serve technologists and managers well. Read on, folks! 
I-Connect007 Launches 'On the Line with...' Podcast with Series on Sustainability
Published May 10
If you're like me (and who isn't?), you're always looking for new content on Spotify. Well, you're in luck. Our new podcast On the Line with… is now available on Spotify and other podcast platforms. Our first podcast features Siemens' Patrick Hope and Pat McGoff discussing sustainability in PCB manufacturing. 
It's Only Common Sense: Eight Things I Learned from Don Draper
Published May 8
Many of us watched "Mad Men," a show set in a 1950s-era ad agency that critics claimed glorified day drinking and sexual harassment in the workplace. That may be true. But along the way, protagonist Don Draper, creative director of the fictional ad agency, lays down some serious wisdom. Dan Beaulieu explains what we can all learn from the man with the snappy gray suit.
EIPC Review: Ultra-high-density Interconnects, Thin-film Resistor Materials
Published May 10
Pete Starkey returns with another installment of his coverage of the EIPC Technical Snapshot webinar series, and, of course, it's one of the most-read articles of the week. No one covers these events like Pete; he breaks down cutting-edge presentations from the top experts in the industry, and provides background info so the reader can understand the potential ramifications of new processes and technologies. Always worth a read. 
Texas Trade School Links Students With Employers
Published May 9
Chances are, you have a few open positions at your company, and you probably don't have a stack of resumés awaiting your perusal. Wouldn't it be nice to have a pipeline of young people who are trained and ready to start working? It may be time to team up with a school like Elvia Quintanilla's Texas Technical Trade School. In this interview, she discusses the school's curriculum, an electrical technical program taught by a certified electrical engineer.  
American Made Advocacy: PCBAA's New Representation
Published May 11
Ever since the CHIPS Act was released last year, there's been a lot of talk about how the DoD is going to support the electronics industry. But some of us don't trust Washington as far as we can throw Rep. Jerrold Nadler. PCBAA is working to make sure that the CHIPS Act isn't just lip service by congressmen eager to win reelection. In this column, Executive Director David Schild discusses the CHIPS Act, as well as the organization's mission to "educate, advocate, and legislate for our industry."  
---
Suggested Items
10/02/2023 | SEMI
Industry visionaries and experts will gather November 6-8 at the MEMS & Sensors Executive Congress (MSEC 2023) at the WIGWAM Resort in Phoenix, Arizona for insights into the latest trends and innovations in sensorization.
10/02/2023 | Gen3
Gen3, Global leader in SIR, CAF, Solderability, Ionic Contamination & process optimisation equipment, is pleased to announce the appointment of John Barraclough as the Head of Business Development.
10/02/2023 | KYZEN'
KYZEN, the global leader in innovative environmentally friendly cleaning chemistries, announced that Debbie Carboni, Global Product Line Manager - Electronics, will present as part of the Electric Vehicle (EV) panel during the IPC High Reliability Forum.
10/02/2023 | ACN Newswire
This joint effort is expected to strengthen the supply of NANOWEB® films and accelerate the growth of the transparent conductive film industry, offering new applications for the automotive and consumer electronics sectors, such as transparent film antennas, transparent film heaters, and transparent film electromagnetic shielding.
09/29/2023 | USPAE
In a major initiative to innovate how the Department of Defense (DoD) spurs commercial technology development, the U.S. Partnership for Assured Electronics (USPAE) and DoD launched a Defense Business Accelerator (DBX) to open doors for industrial base growth and stimulate private investment.