Books

Featured Books

pcb007 Magazine

Latest Issues

Current Issue

Finding Ultra

New demands on PCB fabrication, namely advanced packaging, ultra high density interconnect (UHDI), and new specialty materials, are converging, changing the landscape of our business. Is it time to start paying close attention to this convergence?

Developing a Strategy

A solid strategy is a critical part of success. This month, we asked some of the top industry leaders and business strategy "gurus" to share their thoughts on developing strategies.

Winning With TQM

In this issue, we explore how TQM has entered the DNA of continuous improvement disciplines, and the role leadership transformation plays in this. If you've ever competed against a TQM company, you understand their winning advantage.

Columns

Latest Columns

||| MENU
ATG's Swen Fleischer on China: the Market, the Future and CPCA
April 14, 2015 | Barry Matties, I-Connect007
Estimated reading time: 7 minutes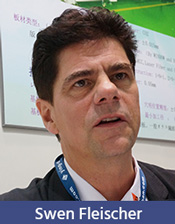 At CPCA 2015 I had the chance to st down with ATG Luther & Maelzer's Swen Fleischer. Among several topics, we discussed automation in China, the Chinese market in general and areas of future growth, as well as the effect of three major trade shows a year on the turnout at CPCA.
Barry Matties: Swen, you've been in this industry for quite a while, and I know that when it comes to ATGLM, it's all about testers. What is the greatest surprise in testing that you've seen in your career?
Swen Fleischer: I've worked nearly 25 years for ATGLM, and yes, I've spent my whole professional life in testers. So when I consider ATGLM, the most surprising thing would be that we've been able to develop new generation after new generation of our testers. When we started the flying probe—around 1990, we only considered prototype testing. But you can see that roughly every six years ATG was able to make a new generation; we are currently at the fourth generation now. We are able to test batches of 500, 1000, and 2000 boards by using our flying probes.
The next point is that the density of the product continues to increase. We now have requests from the packaging market to test 10-15 micron pads. At 10-15 microns there is nobody in the world able to test on a fixture. So flying probes is the future and the only possibility. ATG has shown outstanding performance using multiple probes, like 8, 12, 16 probes. This year we even built a 20-probe tester. This means we really have the capability to develop the future technology of high-speed flying probes so that no other company in the world is able to compare. This is an outstanding feature of ATGLM.
Matties: And that is a perfect fit for the Chinese market.
Fleischer: Yes, because China is a mass production market. They are not buying one or two flying probes anymore, but instead are buying maybe 8 to 15 now. The market changed the course. They are tired of building fixtures and spending a lot of money on a one-time fixture. With more and more prototypes, they may test 500–2000 boards every day. We are not talking about 100,000–300,000 boards; this is not the type of business for probers. But it's pretty serious for prototyping or small series, especially when dealing with HDI mobile phones, where nearly every day they are testing lots of 500–2000 boards.
Matties: Is this is an automated process?
Fleischer: I would not say it's automated; the testing is mainly done in manual mode today. But we see also more and more automation coming to flying probes. The biggest advantage in China is really to have no manual touch between when they load the board to when they take it out of the automation. With automation, no manual mix-up of good and bad boards can happen at the loading/unloading step.
We also get more and more demands to test HDI boards with Kelvin. On a universal tester, Kelvin needs double the number of probes and it is very expensive and difficult to build a fixture.  If you are lucky you will achieve some hundred milliohms and even then the fixture must be perfect, the cassette must be perfect, and the contact resistance must be very stable. On a flying probe tester, Kelvin tests are much easier; just change all the test probes from 2 wire to 4 wire Kelvin needles, and you are ready for Kelvin testing in the MOhm range. The Kelvin test is very reliable for verifying microvia connections in the PCB.
Matties: I've seen a lot of flying probes on the market in China.
Fleischer: You are right. We have a lot of competitors with low-cost probers in China, especially the vertical orientated probers with four arms, two on each side, which many companies produce. I've seen 20 companies with this. But this is a different class. They can not touch smaller items like 75 Mircon and they are very slow compared to us. Sometimes they need three, four, or five machines to compete against one of ours.
Matties: What are your thoughts on the Chinese market?
Fleischer: The Chinese market is still the major dominant market for PCBs in the world. I can say for ATGLM in China and Taiwan, which together are my responsibility, we have at minimum 50% of our revenue here, so it's a major market. We see this continuing in the future, and even now the packaging industry, which was the domain of the Japanese and the Koreans, is now moving forward to China and Taiwan. My guess is that in the future there will be a larger portion of the market in China.
Matties: So you see growth for your company. One of the things that I've noticed is that 10–12 years ago this show was loaded with multi-national companies, and now, not so much. There is only a handful, really.
Page 1 of 2
---
Suggested Items
09/20/2023 | I-Connect007 Editorial Team
Panasonic's Darren Hitchcock spoke with the I-Connect007 Editorial Team on the complexities of moving toward ultra HDI manufacturing. As we learn in this conversation, the number of shifting constraints relative to traditional PCB fabrication is quite large and can sometimes conflict with each other.
09/19/2023 | Anaya Vardya -- Column: Standard of Excellence
In my last column, I discussed cutting-edge innovations in printed circuit board technology, focusing on innovative trends in ultra HDI, embedded passives and components, green PCBs, and advanced substrate materials. This month, I'm following up with the products these new PCB technologies are destined for. Why do we need all these new technologies?
09/18/2023 | ViTrox
ViTrox, which aims to be the world's most trusted technology company, is excited to announce that our trusted Sales Channel Partner (SCP) in Mexico, SMTo Engineering, S.A. de C.V., will be participating in SMTA Guadalajara Expo & Tech Forum. They will be exhibiting in Booth #911 from the 25th  to the 26th of October 2023,  at the Expo Guadalajara in Jalisco, Mexico.
09/18/2023 | Intel
Intel announced one of the industry's first glass substrates for next-generation advanced packaging, planned for the latter part of this decade.
09/18/2023 | Aidan Salvi -- Column: Facing the Future
I have been in and around circuit boards most of my life. I started 20 years ago in my family's PCB shop, leaving after a couple of years to start my own software company. About a year ago, I returned to the family business, and the first thing I noticed was that nothing had really changed. We were doing the same things in the same way as the day I left. After talking to several experts in the industry, I realized it was worse than that: The manufacturing of PCBs had not changed in 70 years.