Books

Featured Books

pcb007 Magazine

Latest Issues

Current Issue

Finding Ultra

New demands on PCB fabrication, namely advanced packaging, ultra high density interconnect (UHDI), and new specialty materials, are converging, changing the landscape of our business. Is it time to start paying close attention to this convergence?

Developing a Strategy

A solid strategy is a critical part of success. This month, we asked some of the top industry leaders and business strategy "gurus" to share their thoughts on developing strategies.

Winning With TQM

In this issue, we explore how TQM has entered the DNA of continuous improvement disciplines, and the role leadership transformation plays in this. If you've ever competed against a TQM company, you understand their winning advantage.

Columns

Latest Columns

||| MENU
Splitting Hairs: The Manufacture of HDI and Substrate Test Fixtures
May 14, 2015 | Todd Kolmodin, Gardien Services
Estimated reading time: 2 minutes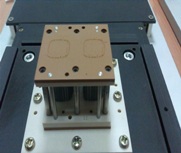 Testing of higher-density product has become ever more challenging with the advancement of chip technology. BGAs, CCDs and other active components have decreased in size so much that historical industry accepted test methodology can no longer effectively test these newer substrates incorporating this higher technology.
Universal grid test machines in North America, for the most part, are limited to single and double-density grids. Dedicated (wired) fixtures can combat some of the density issues faced in today's test arena, but to successfully succeed in the high-volume demand market a test solution must be found to efficiently test the product and also provide automation to reduce cost.
Universal multi-plate fixtures routinely use test pins down to .3 mm. As pin size decreases, the need for extra plates in the fixture increases, so as to stabilize the pin and provide accurate loading of the pin. However, critical mass is soon reached as the fixture can no longer be solved due to inadequate grid contact availability. Further, as the density is maximized the fixture loses internal support and finally becomes unstable producing false defects, excessive troubleshooting and lost time.
Additionally, there is an ever-increasing demand for 4WK measurement especially on HDI boards, requiring two probes contacting the same pad simultaneously, which can only be tackled, especially for volume production, with this or similar technology.
HDI Fixtures vs. Substrate Fixtures
Quad and octal density universal equipment is used for standard HDI fixturing. Pin sizes for this type of fixturing are usually 90–110μm with a length of 20–30mm, therefore much smaller and shorter than standard universal grid fixtures.
To put this in to perspective the human hair has an average diameter of about 70μm (micron.) Pins in a substrate fixture of current generation typically are 70–50μm; the next generation under development will reach 40–25μm.
Substrate fixtures are typically not used with universal test machines. They require a much higher grid density; therefore the grid itself is generated as a wired solution either to standard connectors or to a universal one-touch interface depending on the final machine used.
HDI fixture usually test a complete test array, whereas substrate fixtures usually test only one or two images of the entire array and the machine will step the board through in multiple tests. That is mainly done to achieve the high accuracy required to test those kinds of boards and the extreme cost and time involved to make these fixture.
HDI fixture typically can be produced within 48 hours, the manufacturing time for a substrate fixture is usually 100–200 hours, and extreme cases can even take longer.
The manufacturing process for the substrate fixture is much more complex than the standard universal fixture. Accuracy is absolutely critical for the success of registering the product to the fixture.
There are basically six steps in the manufacturing process whether it is a hybrid design or a tension probe design:
1. DFM—Engineering
2. Drill
3. Electrode level—wiring, electroplating
4. Probe level—adding probes (wires)
5. Final assembly
6. Final QC and test setup
Editor's Note: This article originally appeared in the April issue of The PCB Magazine.
---
Suggested Items
09/28/2023 | TSMC
TSMC announced the new 3Dblox 2.0 open standard and major achievements of its Open Innovation Platform (OIP) 3DFabric Alliance at the TSMC 2023 OIP Ecosystem Forum.
09/26/2023 | Airbus
During the German National Aviation Conference in Hamburg, Airbus Helicopters unveiled the PioneerLab, its new twin-engine technology demonstrator based on the H145 platform.
09/26/2023 | QinetiQ
KBR and QinetiQ signed a teaming agreement to work collaboratively to deliver test and evaluation services for the Australian Defence Force.
09/25/2023 | NASA
The same facility that provided valuable testing for NASA missions to low-Earth orbit and the Moon is now helping the agency prepare to launch the first rocket from Mars.
09/25/2023 | CACI International Inc.
CACI International Inc announced that it successfully completed Optical Communication Terminal (OCT) Interoperability Testing (OIT) of its CrossBeam® OCT for the Space Development Agency's (SDA) Tranche 1 data relay and tracking network