Books

Featured Books

smt007 Magazine

Latest Issues

Current Issue

Test and Inspection

Test and inspection methods are undergoing rapid change. In this issue, we consider the influence of AOI, AI, and human eyes. How exactly are these pieces of the puzzle changing the role of test and inspection?

Chips Don't Float

In Europe and the U.S., legislation is under way to revitalize PCB fabrication and packaging. What is the status of this work, and how specifically does this change the industry landscape for EMS companies? What will help keep us afloat?

Flying High With Digital Twin

The opportunity to use manufacturing simulation as a test bed for job planning and process optimization brings continuous improvement into the modern age. This may be an all-or-nothing type of project, but it's worth the investment.

Columns

Latest Columns

||| MENU
iNEMI Managing Director: New, Disruptive Technology on the Horizon
May 28, 2015 | Barry Matties, I-Connect007
Estimated reading time: 3 minutes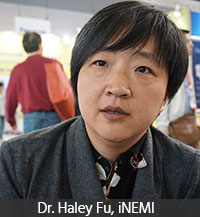 Dr. Haley Fu, managing director of Asia Pacific for iNEMI, gives her overview of the last eight years with iNEMI along with her opinion of what the most significant changes have been, globally and for the Asia market in particular.
Barry Matties: Dr. Fu, you are the managing director of Asia Pacific for iNEMI, and you have been with the organization for nearly eight years. Can you start by giving us an overview of the changes that you've seen in this industry? What things stand out the most?
Dr. Haley Fu: That's a difficult question to answer, but first of all in the global market, Korean companies, like Samsung, have been doing very well and Japanese electronics is probably down a bit. Even for China, some local companies like Xiaomi or Huawei have grown very fast and the market has changed quickly.
Several years ago there were huge changes for mobile phones at companies like HTC, and they grew quickly. Consumers of portable products are extremely dynamic, according to our recently released roadmap for portable and wireless devices. But for the next 10 years perhaps, the gross may reduce by 1-2%, which means maybe people won't upgrade their product as fast as it evolves. Everybody has a smartphone, right? But some functions can be implemented by software and apps and don't require a new phone. So many people will still change, but at a slower pace.
Matties: For example, here in Asia, it's not just that people are changing, but new users are coming up as well. That number has historically been very high, on an annual basis. Do you see that number declining as well for new users?
Fu: I think the numbers will increase, but maybe at a slower speed.
Matties: You were talking about things that people should be aware of right now. What is it that people should be aware of in this market?
Fu: For the technology side, there is some fundamental research work going on with materials and even some innovative new architecture based on these materials. Because the materials and the design of the components integrate so many functions, they pull and push the materials nearly to the limits of their properties. I think new, disruptive technology will be developed and that knowledge will be seen based on some fundamental research work on the material side.
Actually, this year, iNEMI started working with MIT on a program for using microphotonics in technical manufacturing. In the future, the PCB will probably adopt optical architectures instead of copper, because using copper for the trace means that the land space and the property will not satisfy the future high-speed data transport rate.
Matties: TTM is working on that, right? They were estimating it is still two or three years away.
Fu: Yes, that's true. It will require change everywhere, from the system architecture design to the materials and the manufacturing process; a lot of change needs to happen. It means that the industry has to develop a roadmap for how to get there. On the other hand, if we do it for high-volume manufacturing, there should be lower cost. The problem is that it's too expensive to develop. That's basically one trend that we will probably see in the future, but I don't know how many years it will take.
Matties: What you are saying is that there is demand for change right now, with regard to the material needed for the application.
Fu: Yes, for both materials and the applications. The industry needs to get the supply chain in place to implement it.
Matties: That is all very interesting. Thank you for talking with us today.
RELATED CONTENT:
Optical Interconnects, a column from Karl Dietz
An Optical Update with TTM, by Barry Matties
---
Suggested Items
09/28/2023 | Anaya Vardya, American Standard Circuits
There has always been pressure to reduce line and space as we have seen the bleeding edge technology go from 8 mils to 5 mils and then to 3 mils. The difference between "then" and "now" is that the prior advancements, for the most part, used the same processes, chemistry and equipment going from 8 mils to 3 mils. But going from 3 mil to sub 1 mil trace and space is a quantum leap in printed circuit board (PCB) technology that requires a whole new set of processes and materials.
09/28/2023 | Michael Carano -- Column: Trouble in Your Tank
In a previous column, the critical process of desmear and its necessity to ensure a clean copper surface connection was presented. Now, my discussion will focus on obtaining a void-free and tightly adherent copper plating deposit on these surfaces. After the desmear process, the task is to insure a continuous, conductive, and void-free deposit on the via walls and capture pad. Today, there are several processes that can be utilized to render vias conductive.
09/20/2023 | I-Connect007 Editorial Team
Panasonic's Darren Hitchcock spoke with the I-Connect007 Editorial Team on the complexities of moving toward ultra HDI manufacturing. As we learn in this conversation, the number of shifting constraints relative to traditional PCB fabrication is quite large and can sometimes conflict with each other.
09/14/2023 | MKS' Atotech
MKS' Atotech, a leading surface finishing brand of MKS Instruments, will participate in the upcoming IPCA Expo at Bangalore International Exhibition Centre (BIEC) and showcase its latest PCB manufacturing solutions from September 13 – 15.
09/14/2023 | Vern Solberg -- Column: Designer's Notebook
Flexible circuit applications can be as basic as furnishing electrical interconnect between two conventional circuit board assemblies, or to prove a platform for placing and interconnecting electronic components. During the planning and pre-design phase of the flexible circuit, there will be several material and process related questions that need to be addressed. Most flexible circuit fabricators welcome the opportunity to discuss their customers' flexible circuit objectives prior to beginning the actual design process.