Books

Featured Books

smt007 Magazine

Latest Issues

Current Issue

Chips Don't Float

In Europe and the U.S., legislation is under way to revitalize PCB fabrication and packaging. What is the status of this work, and how specifically does this change the industry landscape for EMS companies? What will help keep us afloat?

Flying High With Digital Twin

The opportunity to use manufacturing simulation as a test bed for job planning and process optimization brings continuous improvement into the modern age. This may be an all-or-nothing type of project, but it's worth the investment.

Artificial Intelligence

In this issue, we (and AI) explored how and when artificial intelligence plays a role in manufacturing today. Whether on the factory floor, or in the front office, AI applications are emerging and changing how we approach planning, processes and problem solving.

Columns

Latest Columns

||| MENU
Cranfield Precision Employs Newbury's Manufacturing Expertise
June 1, 2015 | Newbury Electronics
Estimated reading time: 2 minutes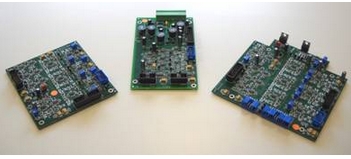 Cranfield Precision, part of the Fives Landis group, and a manufacturer of prototype, high precision, machine tools is just one of a string of UK based engineering teams, which also includes the Satellite Applications Catapult and the University of Southampton Nanofabrication Centre, who turn to Newbury Electronics to fulfill their PCB production and placement requirements.  
Stephen Wosley, Systems & Electronics Design Manager at Cranfield Precision, explained more about their work; "Our machines are designed to work to very high specifications, with components being manufactured to accuracies of tens of  nanometre.  We also need to be able to measure precisely not only distance but other variables such as temperature, pressure and voltage. After exploring what was available on the market we decided to manufacture our own solution and this is where Newbury's design expertise and experience of precision manufacture has really shone through."  He continued; They have a really good understanding of our requirements and are extremely responsive and helpful, offering guidance and advise on the design elements."
One of the most recent projects that Newbury Electronics was involved with was the production of a high response encoder splitter box. The best option on the market operated up to 400kHz but Cranfield needed something capable of handling in excess of 1MHz. Collaboration between the two organisations has resulted in the production of a three board system that can encode in excess of 6MHz.
"Working with a UK manufacturer that can provide us with the engineering quality and expertise combined with a real understanding of our needs and a same day response makes a huge difference to our productivity and programmes," said Wosley.
About Cranfield Precision
Cranfield Precision has 47 years experience in precision machine design and manufacture of world beating high precision machine tools. Their business area encompasses ultra precision machine tools, precision measuring systems and custom designed special purpose machines. The company is committed to ensuring its customers achieve their manufacturing goals by pushing at the furthest boundaries of present day technology.
About Newbury Electronics Ltd
Newbury Electronics Ltd started trading in 1956. A management buyout took place in 1987 and Philip King took on his role of Managing Director in 2011. The company offers a full electronic design, PCB design and layout service alongside PCB manufacture and assembly in Newbury, West Berkshire.  It employs 73 staff and is dedicated to small and medium batch PCB assembly, specialising in electronic design and manufacture incorporating SMD, SMT, surface mount, BGA, through hole, box build, soldering, test, & rework. Customers can select from electronics design and CAD layout through to printed circuit board design and fabrication, assembly and test, and the company is happy to undertake single, bespoke projects through to the design and supply of manufacture lots of up to 10,000 pcs on its automated SMD assembly lines.
As a contract electronic manufacturer (CEM), each year, the company produces in excess of over 15,000 different PCB designs for its clients, who benefit from the economies of scale built from the volume of orders processed.  For more information visit www.newburyelectronics.co.uk.
---
Suggested Items
09/26/2023 | SMTA
SMTA is pleased to announce Catherine Wong, Foothill College, has been selected as the recipient of the 2023 JoAnn Stromberg Student Leader Scholarship.
09/25/2023 | Purdue University
Purdue University continues building momentum as America's leading university in semiconductors, with a broad range of updates this fall semester.
09/25/2023 | Alison James
"Electronics systems are at the heart of almost all modern technology. The performance and functionality of these systems have increased at breathtaking speed, chiefly as a result of advancements in semiconductor technology. Semiconductors do not function in isolation," writes Alison James, IPC senior director of government relations, in a 2023 report for the European Commission's Directorate General for Internal Market, Industry, Entrepreneurship. "These electronics systems feature prominently in key sectors like defence, aerospace, space, automotive, medical, and high-performance computing, but electronics are vital to every industry and are central to a variety of EU priorities, including the twin digital and green transitions and Europe's technological sovereignty."
09/25/2023 | APCT
APCT, a leading name in the PCB and electronics industry, is delighted to announce the appointment of Peter Austin as its President and CEO, effective September 1. Peter takes the reins from former CEO, Steve Robinson, who has retired after years of dedicated service to the company.
09/21/2023 | KIC
KIC, a renowned pioneer in thermal process and temperature measurement solutions for electronics manufacturing, is thrilled to announce its participation in the upcoming SMTA Guadalajara Expo & Tech Forum.