Books

Featured Books

smt007 Magazine

Latest Issues

Current Issue

Chips Don't Float

In Europe and the U.S., legislation is under way to revitalize PCB fabrication and packaging. What is the status of this work, and how specifically does this change the industry landscape for EMS companies? What will help keep us afloat?

Flying High With Digital Twin

The opportunity to use manufacturing simulation as a test bed for job planning and process optimization brings continuous improvement into the modern age. This may be an all-or-nothing type of project, but it's worth the investment.

Artificial Intelligence

In this issue, we (and AI) explored how and when artificial intelligence plays a role in manufacturing today. Whether on the factory floor, or in the front office, AI applications are emerging and changing how we approach planning, processes and problem solving.

Columns

Latest Columns

||| MENU
Intertronics Launches Fisnar DC100 Programmable Precision Dispenser
June 3, 2015 | Intertronics
Estimated reading time: 1 minute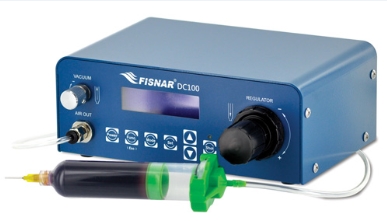 The new Fisnar DC100 has a claim to be the most adjustable and adaptable programmable liquid dispenser on the market. Time/pressure dispensers have been used for decades for the application of adhesives, lubricants, inks, fluxes and a whole host of other materials, controlling the amount delivered in both manual and automated processes.
With an enhanced range of programmable functionality, the Fisnar DC100 is an advance in fluid dispensing technology which allows the user more control over their dispensing applications. Alarms can be set to notify the user when material life has ended or fluctuations in dispensing pressure have occurred. An auto purge function prevents premature curing of the material when the dispenser is not in operation. Air output and vacuum are now digitally displayed and can be set with tolerances to give a more precise dispense. The programming incorporates an easy to use system that saves up to ten programs and provides five different dispensing modes. An I/O connection facilitates integration into pre-existing manufacturing lines. Lockable programs allow the operator to use the Fisnar DC100 without fear of mistakenly modifying programs.
Applications which are demanding the higher precision and control offered by the DC100 include those in medical device manufacturing, electronics, optics and automotive – where material application ranges from small dots to component encapsulation. The extensive capabilities and versatility of the DC100 mean it can be a cost effective answer where engineers are facing multiple dispensing challenges.
For further information please see www.intertronics.co.uk/dc100 or visit their blog at www.adhere.uk.com also click here.  
---
Suggested Items
09/29/2023 | Intel
Intel celebrated the arrival of its Intel 4 technology, which uses extreme ultraviolet (EUV) technology, and the first use of EUV in high-volume manufacturing (HVM) in Europe.
09/29/2023 | Dixon
Dixon wholly owned subsidiary- Padget Electronics Private Limited enters into an Agreement with Xiaomi to carry out manufacturing of smart phones and other related products for Xiaomi.
09/28/2023 | Technica USA
Technica USA announced it has reached a Master Distribution Agreement with SAA to promote and support automation systems & technology offered by SAA.
09/28/2023 | GlobalFoundries
GlobalFoundries (GF) announced the official opening of a new hub facility in Penang, Malaysia.
09/28/2023 | IPC
IPC continues to collaborate with the electronics manufacturing industry to meet their current and future workforce training needs.