Books

Featured Books

smt007 Magazine

Latest Issues

Current Issue

Chips Don't Float

In Europe and the U.S., legislation is under way to revitalize PCB fabrication and packaging. What is the status of this work, and how specifically does this change the industry landscape for EMS companies? What will help keep us afloat?

Flying High With Digital Twin

The opportunity to use manufacturing simulation as a test bed for job planning and process optimization brings continuous improvement into the modern age. This may be an all-or-nothing type of project, but it's worth the investment.

Artificial Intelligence

In this issue, we (and AI) explored how and when artificial intelligence plays a role in manufacturing today. Whether on the factory floor, or in the front office, AI applications are emerging and changing how we approach planning, processes and problem solving.

Columns

Latest Columns

||| MENU
In 3D Inspection, Can 'Length = Height' Mean No Escapes?
June 8, 2015 | Barry Matties, I-Connect007
Estimated reading time: 6 minutes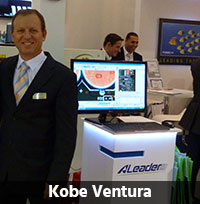 During the recent NEPCON China show in Shanghai, I interviewed Kobi Ventura of ALeader Europe, an Israeli-Chinese joint venture with ALeader Vision Technology Ltd., which focuses on SPI and AOI inspection equipment. All of the machines are built in a state-of-the-art factory in Guangdong, China. Utilizing a unique length-equals-height modeling approach to inspection, Kobi states that they offer 100% escape-free technology, and it comes with a guarantee. 
Barry Matties: Kobi, as president of ALeader Europe, why don't you start by telling me a little bit about your company?
Kobi Ventura: ALeader is an SPI and AOI manufacturer that has been in business for more than 13 years and has been here in China for about nine years. At ALeader Europe, we are responsible for all sales outside of China. 
Matties: Only outside of China, but nothing in China?
Ventura: We are dealing with only with some big accounts in China, currently. All of our ALeader products that we sell to the rest of the world are made in China.
Matties: So you are here from ALeader Europe today mostly to support your Chinese team. Is there an advantage to manufacturing your machines in China?
Ventura: I will say that since our machines are made in China it is sometimes at a disadvantage in the Western world. People hear 'Made in China' and have some concerns. But when it comes to performance, we are selling a machine according to a very long evaluation. We just installed the first machine at Flextronics in Brazil, and we are going to be on the AVL very soon, in the next month or so. These types of companies are doing very tough evaluations.
Matties: There is a lot of competition in this space. At this show alone, there must be eight or nine 3D inspection devices. It seems to be a crowded space.
Ventura: It is a crowded space. It's not easy; you must be innovative and work hard to come to the market with the best product.
Matties: Everyone claims to be innovative, or that they have the best machine, and this, that and the other thing. I guess at the end of the day, it just comes down to what customers buy. 3D is really making a big play right now. Do you have an offering for 3D as well?
Ventura: It's true. For the past year and a half we have had the i3D, a unique technology used in our AOI that measures height, but not in the conventional way. We actually convert length to height, so we're doing it in a different way. 
Matties: What is the advantage of this method?
Ventura: The benefit is we can continue to use our current technology without adding much more complicated 3D technology, but get the same or even better results. It has proven in many evaluations around the world that it is much more stable than any other product on the market today. 
Matties: Some companies have implemented X-ray for their 2D and 3D solutions. Do you have X-ray capabilities?
Ventura: We currently do not have X-ray. We never intended to input the X-ray; it is not our core business. Our core business is AOI and vision inspection.
Matties: What markets do you serve?
Ventura: We sell to some very high-end automotive companies, like Visteon for example. In the West we have Kongsberg, also automotive, and we just got another inquiry in Denmark. In Italy we have several automotive accounts.
Matties: Automotive is a driving factor in the marketplace right now.
Ventura: I believe it is all over the world, but especially here in China.
Matties: What sort of demands do your customers put on you?
Ventura: Demands usually center on communication with their system, and the ability to supply and analyze real-time results. We have some advantage in this area as well. We have very efficient statistical process control (SPC), and actually we just launched a line control system that can report the full situation of the line immediately. Customers can have a screen above each machine that displays data collected from all stages of the line. We report immediately about any problems in the line and that makes it easy to notice each problem.
Matties: Is this equipment linked to the internet for servicing or updates?
Ventura: It depends on the factories, but usually yes. Some military companies are not allowed to have connection to the Internet, but we have found solutions even in those companies. Usually we support from a distance if needed, whether it is simple questions or even those more difficult. 
Matties: I know with some 3D or AOI-type equipment, service contracts are an add-on cost. Do you also have service contracts that people need to pay for?
Ventura: No. If it is a question regarding operation or some unique component or application and they need in-house support, it is free of charge for the lifetime of the machine. We do not charge for this even it takes a few hours of support. Also, our machines come fully equipped in the price. Many of our other competitors charge for options like 2D barcode, which is standard in our machine.
Matties: What sort of warranty comes with your equipment?
Ventura: Our standard is a one-year warranty.  
Matties: Is there anything else that people should know about your company or your equipment that we haven't covered
Ventura: We have some unique technology at ALeader. We invest a lot in R&D, so we have a very particular escape-free technology. We can assure customers they will not have any escapes. This is something that, as far as I know, no one else can offer.
Matties: How do you do that?
Ventura: We have a special algorithm or mechanism in the system that can assure that no escape will happen.
Page 1 of 2
---
Suggested Items
09/25/2023 | StenTech
StenTech Inc., the leading multinational SMT Printing Solutions company, is pleased to announce plans to exhibit at the SMTA Guadalajara Expo, scheduled to take place Oct. 25-26, 2023 at the Expo Guadalajara in Guadalajara, Jalisco, Mexico.
09/22/2023 | ACN Newswire
Nanofiber Quantum Technologies Inc. raised $8.5m from leading venture capital investors. Phoenix Venture Partners (PvP) in the US, and Japan's JAFCO Group Co Ltd, SPARX Group Co Ltd, Keio Innovation Initiative, Inc. (KII), and Waseda University Ventures (WUV) financed the round through convertible notes.
09/26/2023 | Joe Fjelstad -- Column: Flexible Thinking
Despite what some seem to believe, rigid-flex circuits are not a new technology. In fact, they are more than a half-century old. At the time of the invention, my friend Thomas Sterns was working at Sanders Associates, the pioneering flex circuit manufacturer. Like many products in the first decades of printed circuit technology, they were working on a military application. The objective was to provide a reliable method for reducing the size, bulk, weight, and questionable reliability of wire harness assemblies while simultaneously reducing cost and assuring that human error might be minimized. These were all vitally important concerns for military and aerospace products.
09/21/2023 | ViTrox
ViTrox, which aims to be the world's most trusted technology company, is pleased to announce the addition of Hayden Dalton to our team as a Field Support Engineer who based in Milwaukee, WI, effective August 21, 2023.
09/20/2023 | Qualcomm Technologies, Inc.
Qualcomm Technologies, Inc. is ushering in a new era of home connectivity, and new opportunities for service providers, with the introduction of the Qualcomm® 10G Fiber Gateway Platform and its signature feature, Qualcomm® Service Defined Wi-Fi technology.