Books

Featured Books

smt007 Magazine

Latest Issues

Current Issue

Chips Don't Float

In Europe and the U.S., legislation is under way to revitalize PCB fabrication and packaging. What is the status of this work, and how specifically does this change the industry landscape for EMS companies? What will help keep us afloat?

Flying High With Digital Twin

The opportunity to use manufacturing simulation as a test bed for job planning and process optimization brings continuous improvement into the modern age. This may be an all-or-nothing type of project, but it's worth the investment.

Artificial Intelligence

In this issue, we (and AI) explored how and when artificial intelligence plays a role in manufacturing today. Whether on the factory floor, or in the front office, AI applications are emerging and changing how we approach planning, processes and problem solving.

Columns

Latest Columns

||| MENU
SMTAI Conference Program Finalized and Registration Now Open
June 17, 2015 | SMTA
Estimated reading time: 1 minute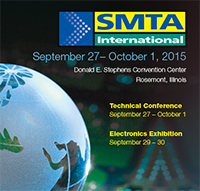 The SMTA is pleased to announce that the program for SMTA International is finalized and available on-line at www.smta.org/smtai and registration is open. The conference will be held at the Donald Stephens Convention Center in Rosemont, Illinois on September 27 - October 1, 2015. This year's program allows the attendee to choose from 19 courses, 120 technical papers, three focused symposia, and numerous complimentary offerings throughout the conference and exhibition.
The SMTA International conference includes focused technical tracks covering Advanced Packaging Technology, Evolving Technologies, Lean Initiatives, Flux, Solder, Adhesives, Harsh Environment Applications, Inspection Technologies, Lead-Free Soldering Technology, Manufacturing Excellence, and Substrates/PCB Technology.  Technical sessions will be held on Monday through Thursday.  Tutorials are half-day educational courses offered on Sunday, Monday, and Thursday. Thursday's tutorial on "LED, BGA, and QFN Assembly and Inspection" is free for SMTA and IPC members who register in advance. 
Informative and focused symposia make up part of the technical conference and include the Evolving Technologies Summit, Harsh Environments Symposium, and Lead-Free Soldering Technology Symposium. 
IPC will once again co-locate its Fall Standards Development Committee Meetings during SMTA International. This landmark collaborative effort by both associations has proven to benefit the electronics manufacturing industry as a whole.
Over 160 supplier companies will display equipment, materials, and services at the Electronics Exhibition, which will be held Tuesday and Wednesday, September 29 - 30.  Attendees are invited to join Tech Tours to get an inside look at the latest in placement equipment and inspection technology.  Free lunch will also be provided both days on the show floor.
Many additional events at SMTA International are free to all attendees including the L3 Series of Complimentary Sessions, SMTA - NPL Solder Paste and Solder Joint Automatic Inspection Experience, Women's Leadership Connection and Robotics Alley.
First time attendees can take an extra 10% off conference registration. The Early Bird registration deadline is August 28, 2015.
For full details and to register for SMTA International, click here or contact SMTA administrator JoAnn Stromberg: 952-920-7682 or joann@smta.org.
About SMTA
The SMTA membership is an international network of professionals who build skills, share practical experience and develop solutions in electronic assembly technologies, including microsystems, emerging technologies, and related business operations.
RELATED VIDEO:
---
Suggested Items
09/26/2023 | Conecsus Metals México
Conecsus Metals México, an innovative environmental technology and recycling company, will exhibit at the SMTA Foro Tecnico & Expo, Guadalajara, Jalisco, México, on Wednesday, October 25, 2023, beginning at 11:00 a.m.
09/21/2023 | Thermaltronics USA, Inc.
Thermaltronics USA, Inc., a globally acclaimed manufacturer of Precision Soldering Robots and innovative Curie point soldering systems, is excited to announce its participation in the highly anticipated SMTA Guadalajara Expo & Tech Forum, scheduled to take place from October 25-26, 2023.
09/20/2023 | ULT AG
At this year's productronica, the world's leading trade show for electronics manufacturing, ULT will present a brand new extraction solution for solder fumes and vapor.
09/20/2023 | Hentec Industries/RPS Automation
Hentec Industries/RPS Automation, a leading manufacturer of selective soldering, component lead tinning and solderability test equipment, announces that it has added assembly and production staff members to its team to accommodate its recent increase in sales and order demand.
09/19/2023 | SMTA
SMTA is honored to announce Qais Qasaimeh, a graduate student at Auburn University, has been selected as the winner of the 2023 Charles Hutchins Educational Grant.