Books

Featured Books

smt007 Magazine

Latest Issues

Current Issue

Chips Don't Float

In Europe and the U.S., legislation is under way to revitalize PCB fabrication and packaging. What is the status of this work, and how specifically does this change the industry landscape for EMS companies? What will help keep us afloat?

Flying High With Digital Twin

The opportunity to use manufacturing simulation as a test bed for job planning and process optimization brings continuous improvement into the modern age. This may be an all-or-nothing type of project, but it's worth the investment.

Artificial Intelligence

In this issue, we (and AI) explored how and when artificial intelligence plays a role in manufacturing today. Whether on the factory floor, or in the front office, AI applications are emerging and changing how we approach planning, processes and problem solving.

Columns

Latest Columns

||| MENU
Faster, More Precise Jet-dispensing in Microsystems Technology
September 16, 2015 | Delo Industrial Adhesives
Estimated reading time: 3 minutes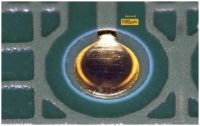 Miniaturization is making high demands of microsystems technology, requiring microdispensing to walk a fine line between speed and precision.
As miniaturization advances relentlessly, the components that need to be connected are becoming ever smaller and more delicate. At the same time, quality standards and the functionality of the materials are increasing. This development requires joining processes that can reliably fix the smallest of components. In many cases, bonding is the best solution to meet the requirements of the various materials and the tight installation space.
But bonding small components requires minute amounts of adhesive to be precisely applied, which is only possible with special dispensing processes like microdispensing. Zero-defect strategies can only be implemented for bonding processes if the dispensing quantities and positions can be maintained at an absolutely constant level.
What is more, microsystems technology is also being confronted with the task of further reducing costs. This essentially requires the production processes to be sped up, which is increasingly focusing attention on quicker dispensing processes for bonding.
The challenge for microdispensing technology is clear-cut: increasingly small amounts must be dispensed with increasing precision and in increasingly fast times.
The status quo in microdispensing
The physical characteristics of components, substrates and the materials to be dispensed can complicate the dosing process. As well as the high demands for accuracy, dispensing also represents a three-dimensional challenge. It is therefore absolutely necessary to make use of cameras to take measurements before and during this process. Even when this challenge can be overcome, there is still the possibility of undesirable dripping, which can displace the adhesive.
With its linear, volume-controlled dispensing, Häcker Automation GmbH already has a patented process in place that enables the highly precise application of extremely small quantities. A tappet in the dispensing device can be moved linearly up and down by a drive motor causing it to push on the sealing plug of the cartridge. The feeding motion of the tappet, which can be controlled in a defined way, dispenses a precisely determined volume of the fluid substance depending on the cartridge and dispensing-needle cross-section. Changes in the fill level of the cartridge and its internal pressure, or in the material viscosity or flow resistance are compensated for through a continual comparison between the actual and desired dispensing amount. With this control loop, a uniform process with a stable volume can be guaranteed over a long period of time.
Combining speed and precision
However, in the face of ever shorter product life cycles and payback times, precision and stability alone are not enough to gain a competitive edge. It is also a question of shortening cycle times by speeding up dispensing processes.
In order to meet the market demand for higher throughputs, Häcker Automation launched a collaboration with DELO Industrial Adhesives to combine the benefits of the linear, volume-controlled process with those of jetting, taking microdispensing to the next level. For this, Häcker Automation is integrating the DELO-DOT PN2 jet valve into its D-J30 dispenser module, which will enable two types of operation.
Häcker and DELO are combining their expertise in a dispensing module (Photo: DELO)
For the first variant, needle-dispensing is retained. The integrated jet valve is used here as an opening and closing valve, preventing the medium from escaping unchecked. As a result, dispensing can be up to three times quicker. Thanks to the control loop described above, the application results can be highly precise and, above all, reproducible. It allows different material quantities to be dispensed at a constant level of precision over a long period of time.
To speed up the dispensing process still further, the two companies' second variant relies on open jetting, where the adhesive is applied without contact, i.e. without a needle. As the feed motion of the needle is no longer required, the dispensing speed also increases and cycle times are optimized further. In this operating mode too, the linear, volume-controlled process ensures that various volumes can be precisely and uniformly applied, with the focus here being on speed compared to the first option. What is more, tolerances for the component position along the z-axis are not important in this operating mode because, with jetting, the free-flowing drops of adhesive inherently always reach the substrate surface at its actual height. The risk of a collision between needle and component, which is ever present with needle-dispensing, is effectively precluded from the outset.
Accuracy, reproducibility, speed – with a drop size of just a few hundred micrometers. (Photo: DELO)
Outlook
The two companies already have plans to investigate the operating conditions of this combined technology for a diverse range of new materials to make the benefits of jet dispensing available for a broad spectrum of applications.
---
Suggested Items
09/21/2023 | Anda Technologies
Anda Technologies, a leading provider of fluid application and custom automated manufacturing equipment, is excited to announce its participation in SMTA Guadalajara, a premier event in the electronics manufacturing industry.
09/20/2023 | Rehm Thermal Systems
For several years now, Motek/Bondexpo in Stuttgart has been a consistent part of Rehm Thermal Systems' trade fair calendar. The focused orientation of the trade fair on the process chain of joining/connecting through adhesive bonding, potting, sealing, and foaming makes it an ideal platform for Rehm, especially in the areas of Conformal Coating and Dispensing.
09/19/2023 | PVA
PVA, a global supplier of automated dispensing and coating equipment, is excited to announce its participation in SMTA Guadalajara, one of the most anticipated events in the electronics manufacturing industry.
09/06/2023 | Anda Technologies USA, Inc.
Anda Technologies, a leading provider of fluid application and custom automated manufacturing equipment, will exhibit in Booth #916 at the upcoming SMTA International exhibition. The event will be held at the Minneapolis Convention Center in Minnesota from Oct. 10-11, 2023.
08/11/2023 | PVA
PVA, a global supplier of automated dispensing and coating equipment, is excited to announce its participation in productronica India 2023, in collaboration with its distributor, Maxim.