Books

Featured Books

smt007 Magazine

Latest Issues

Current Issue

Chips Don't Float

In Europe and the U.S., legislation is under way to revitalize PCB fabrication and packaging. What is the status of this work, and how specifically does this change the industry landscape for EMS companies? What will help keep us afloat?

Flying High With Digital Twin

The opportunity to use manufacturing simulation as a test bed for job planning and process optimization brings continuous improvement into the modern age. This may be an all-or-nothing type of project, but it's worth the investment.

Artificial Intelligence

In this issue, we (and AI) explored how and when artificial intelligence plays a role in manufacturing today. Whether on the factory floor, or in the front office, AI applications are emerging and changing how we approach planning, processes and problem solving.

Columns

Latest Columns

||| MENU
Rethink Robotics' Sawyer Robot Set for Global Deployment
September 24, 2015 | Rethink Robotics
Estimated reading time: 3 minutes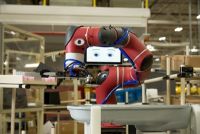 Rethink Robotics' Sawyer robot, its second smart, collaborative robot designed for a wide range of factory environments, is now available for purchase and is being deployed by manufacturers across the globe. Announced in March, Sawyer is a single-arm, high-performance robot created to handle machine tending, circuit board testing and other precise tasks that have been difficult to automate with existing robots.
EMS firm Jabil Circuit is an early adopter and field tester of Sawyer. In a statement, John Dulchinos, vice president of digital manufacturing at Jabil, said, "Flexible automation that addresses shrinking product lifecycles and helps companies align with consumer trends is a critical technology initiative for manufacturers. Rethink Robotics continues to lead the way in defining how workers and machines can coexist to leverage the strengths of each, and optimize productivity for all."
Weighing only 19 kilograms (42 pounds), Sawyer features a 4kg (8.8 lb) payload, with seven degrees of freedom and a 1,260mm reach that can maneuver into the tight spaces and varied alignments of work cells designed for humans. Its high resolution force sensing, embedded at each joint, enables Rethink Robotics' compliant motion control, which allows the robot to "feel" its way into fixtures or machines, even when parts or positions vary. This characteristic enables a repeatability that is unique to the robotics industry, and allows Sawyer to work effectively in semi-structured environments on tasks requiring 0.1mm of tolerance.
Sawyer offers a unique combination of features that distinguish it from other conventional and collaborative robots, including compliant motion control, embedded vision with a built-in Cognex camera and Rethink's Robot Positioning System, a component of the proprietary and industry-leading Intera software platform. Powering both Sawyer and Rethink's first collaborative robot, Baxter, the Intera system makes deploying the robots far easier than typical industrial robots. While traditional robots typically take an average of 200 hours to program and deploy, Sawyer can be deployed in under two hours and can easily be trained by typical factory technicians – not roboticists.
Sawyer is purpose-designed for enterprise-level deployments, with a useful life of 35,000 hours of operation. The robot is IP54-rated, making it ideal for harsh factory environments. Since its introduction, Sawyer has been field tested extensively at leading manufacturers' sites around the world, and is currently being deployed on production lines in many of those facilities.
General Electric has been testing Sawyer over the past month and will deploy their first robot in a GE Lighting plant in Hendersonville, North Carolina.  A prime example of true human-robot collaboration, Sawyer will be on a production line positioning parts into a light fixture as a GE employee completes the assembly. The process improves the efficiency of the product line while allowing GE's employees to handle the more dexterous and cognitive work needed to complete the task.
"The ability to deploy a smart, collaborative robot like Sawyer provides a significant flexibility advantage to our production team, while still meeting our world class quality, precision and speed standards," said Kelley Brooks, global advanced manufacturing & engineering leader at GE Lighting. "Utilizing this technology is an integral part of our Brilliant Factory initiative to connect all parts of the supply chain from product design, to engineering, to the factory floor and beyond in order to deliver customized LED solutions for our customers."
Sawyer is a significant addition to the company's smart, collaborative robot family, which also includes the groundbreaking Baxter robot that defined the category of safe, interactive, affordable automation. Sawyer is available for purchase in manufacturing environments throughout North America, Europe and Asia-Pacific.
"After announcing Sawyer in March, the worldwide demand we have seen for the robot has been overwhelming," said Rethink Robotics President and Chief Executive Officer, Scott Eckert. "Manufacturers around the globe understand that Sawyer opens the door for a wealth of new applications and opportunities to improve their business, and they are eager to get it onto their production floors."
About Rethink Robotics
Rethink Robotics is transforming the way manufacturing gets done, with smart, collaborative robots able to automate the 90 percent of tasks that until now, have been beyond the reach of traditional automation. Its Baxter and Sawyer robots, powered by the Intera software platform, adapt to real-world variability, can change applications quickly and perform tasks like people do. The result: manufacturers of all shapes, sizes and industries get the fast-to-deploy, easy-to-use and versatile automation solution they need to increase flexibility, lower cost and accelerate innovation.
Based in Boston, the Rethink product suite is available in Asia-Pacific, Europe and North America. The company is funded by Bezos Expeditions, CRV, Highland Capital Partners, Sigma Partners, DFJ, Two Sigma Ventures, GE Ventures, and Goldman Sachs. For more information about Rethink Robotics, please visit www.rethinkrobotics.com.
---
Suggested Items
08/31/2023 | IFR
Labor shortage has become one of the most pressing challenges for small and midsized enterprises (SME) in OECD countries.
07/21/2023 | Business Wire
Reliable Robotics, a leader in safety-enhancing aircraft automation systems, announced its certification plan was formally accepted by the Federal Aviation Administration (FAA).
07/03/2023 | Barry Matties, I-Connect007
Meet Joseph LaRosa, a young application engineer at Omron who is passionate about robotics and automation. I recently interviewed Joseph (his first one) about his choice to work in the electronics industry and his advice for others looking for a career path. I really admire Joseph's ambitious nature and drive to be the best at what he does. If you're going to do it, you might as well be the best at it, he says.
06/28/2023 | Business Wire
Realtime Robotics, the leader in collision-free autonomous motion planning for industrial robots, announced that it has secured an additional $9.5 million in funding from Shinhan GIB and Kyobo Life Insurance.
06/23/2023 | Business Wire
Arrow Electronics, Inc. and its company eInfochips have established a Robotics Center of Excellence (COE) to help customers accelerate time to market for the development of cutting-edge automation solutions for use in manufacturing, digital factories, and other industries.