IoT Growth Puts Spotlight on Cybersecurity
October 19, 2015 | PRNewswire
Estimated reading time: 4 minutes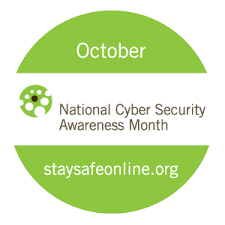 National Cyber Security Awareness Month (NCSAM), the pre-eminent cybersecurity awareness campaign co-founded and led by the National Cyber Security Alliance (NCSA) and the U.S. Department of Homeland Security (DHS), enters its fourth week by focusing on the Internet of Things (IoT) and properly securing our rapidly expanding universe of connected devices. 
The Internet is evolving into something that connects everything and everyone. Our cars are quickly morphing into "smartphones on wheels," the number of connected devices at home is rapidly rising, and at work, more people and machines are connected to networks and each other, sharing vast amounts of valuable data designed to make our lives and businesses more efficient.
This Internet of Things phenomenon is poised to transform our lives. According to Intel, the Internet of Things is predicted to grow from two billion objects in 2006 to 200 billion by 2020 ‒ around 26 smart objects for every human being on Earth. But while IoT will provide us tremendous benefits – allowing us to remotely access, monitor and control our home devices via the Internet – it will also make securing all our devices an enormous challenge. With a recent survey by ESET and NCSA indicating that 21 percent of Americans use a mobile device to remotely access a device at home, it is more important than ever to remember the messages of STOP. THINK. CONNECT.: take time to understand the risks of the Internet and how to spot a problem, think about how your online actions can impact your safety, and enjoy the Internet with greater confidence.
"The emerging world of IoT has the potential to be a transformational technology. To reap its many benefits, the world of IoT must be safe, secure and trusted," said Michael Kaiser, executive director of NCSA. "Individuals and businesses that adopt IoT should be sure they know how to keep the devices secure, understand what data is being collected and where its being stored, and how to take advantage of any available user controls for the device."
Businesses are also becoming more aware of the potential of IoT as well as the security and privacy challenges it poses. With the increased ability to connect more devices to the Internet, businesses can enhance efficiency, save money and have better access to opportunities. But having more data can also make businesses – and their customers – more attractive to cyber criminals.
"The Internet of Things will undergo explosive growth in the next few years and it will benefit us all," said Chris Boyer, Assistant Vice President of Public Policy for AT&T, a market-leader in IoT and security innovation. "At the same time, as with any new technology, security is top of mind for IoT development. This is something industry is well aware of and AT&T is working to ensure that, with the growth of IoT, comes awareness on how to best protect IoT products and services." 
A NCSAM keystone event at Nasdaq's headquarters in New York City today will convene a group of industry luminaries for a lively discussion highlighting the challenges of the Internet of Things. This C-Suite panel of executives will address a variety of topics on securing the Internet of Things with guests from the media and the public and private sector. A range of key issues will include putting security at the core of IoT's value proposition; privacy and IoT; innovation and security; and IoT trends for 2016. The panel is composed of representatives from companies at the forefront of cybersecurity, including AT&T, BlackBerry, Cisco, PKWARE and Symantec. Sponsors of the event include Cisco, Fasoo, Logical Operations, Mobile Comply, Nasdaq, NCSA, PricewaterhouseCoopers LLP and Symantec.
Cisco's participation in the event is timely: this week, NCSA announced that Cisco (NASDAQ: CSCO), a worldwide leader in information technology and an IoT pioneer, has joined the NCSA's Board of Directors. Anthony Grieco, Principal Engineer and Director of the Security and Trust Organization at Cisco, will sit on the Board starting this month. 
NCSA encourages all Internet users to follow the message of STOP. THINK. CONNECT. Make sure connected devices have security precautions, think about the consequences of the data being shared, and then connect a device to the Internet with more peace of mind. Follow these tips for a safer and more secure IoT experience:
Keep clean machines:
Understand how to keep IoT devices up to date, including through software updates or stronger passwords.
Keep your mobile phone and apps up to date. Many IoT devices are controlled via smartphones or tablets. Keeping your phone and associated apps up to date is an important security step.
Pay attention the Wi-Fi router in your home – it is the main way IoT devices connect to the Internet. Use a strong password and name the device in a way that won't let people know it's your house. Keep router software up to date.
Keep an inventory of all Internet connected devices.
Own Your Online Presence:
Understand what's being collected: Most IoT devices collect data. Take the time to understand what information your devices are collecting and how that information is managed and used.
Know where your data goes: Many IoT devices will send your information to be stored in the cloud. Understand where the data will reside and the security protecting your information.
Do your research: Before adopting a new smart device, research it to make sure others have had positive experiences with the device from a security and privacy perspective.
---
Suggested Items
09/20/2023 | I-Connect007 Editorial Team
Panasonic's Darren Hitchcock spoke with the I-Connect007 Editorial Team on the complexities of moving toward ultra HDI manufacturing. As we learn in this conversation, the number of shifting constraints relative to traditional PCB fabrication is quite large and can sometimes conflict with each other.
09/19/2023 | Anaya Vardya -- Column: Standard of Excellence
In my last column, I discussed cutting-edge innovations in printed circuit board technology, focusing on innovative trends in ultra HDI, embedded passives and components, green PCBs, and advanced substrate materials. This month, I'm following up with the products these new PCB technologies are destined for. Why do we need all these new technologies?
09/18/2023 | ViTrox
ViTrox, which aims to be the world's most trusted technology company, is excited to announce that our trusted Sales Channel Partner (SCP) in Mexico, SMTo Engineering, S.A. de C.V., will be participating in SMTA Guadalajara Expo & Tech Forum. They will be exhibiting in Booth #911 from the 25th  to the 26th of October 2023,  at the Expo Guadalajara in Jalisco, Mexico.
09/18/2023 | Intel
Intel announced one of the industry's first glass substrates for next-generation advanced packaging, planned for the latter part of this decade.
09/18/2023 | Aidan Salvi -- Column: Facing the Future
I have been in and around circuit boards most of my life. I started 20 years ago in my family's PCB shop, leaving after a couple of years to start my own software company. About a year ago, I returned to the family business, and the first thing I noticed was that nothing had really changed. We were doing the same things in the same way as the day I left. After talking to several experts in the industry, I realized it was worse than that: The manufacturing of PCBs had not changed in 70 years.