Books

Featured Books

smt007 Magazine

Latest Issues

Current Issue

Chips Don't Float

In Europe and the U.S., legislation is under way to revitalize PCB fabrication and packaging. What is the status of this work, and how specifically does this change the industry landscape for EMS companies? What will help keep us afloat?

Flying High With Digital Twin

The opportunity to use manufacturing simulation as a test bed for job planning and process optimization brings continuous improvement into the modern age. This may be an all-or-nothing type of project, but it's worth the investment.

Artificial Intelligence

In this issue, we (and AI) explored how and when artificial intelligence plays a role in manufacturing today. Whether on the factory floor, or in the front office, AI applications are emerging and changing how we approach planning, processes and problem solving.

Columns

Latest Columns

||| MENU
Electronic Systems Receives first OSHA Award for Safety
November 16, 2015 | Electronic Systems Inc.
Estimated reading time: 1 minute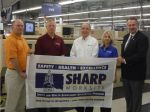 Electronic Systems Inc. recently received a two-year certificate of recognition award for establishing and implementing an exemplary safety and health management system under the OSHA Safety and Health Achievement Recognition Program.
The SHARP award is the first for Electronic Systems Inc., which is located in Sioux Falls. OSHA has recognized only two other firms in South Dakota.
To qualify for SHARP status, a company must:
Undergo complete and comprehensive safety and health audits;
Correct all hazards identified by the consultant;
Implement and maintain an exemplary safety and health management system; and
Record lower company lost-workday injury and illness rate and total recordable case rate below the national average.
"A SHARP inspection is a very rigorous activity for a company to undergo and Electronic Systems has made a very impressive effort to receive this recognition. It is particularly impressive to see how well Electronic Systems did in this application," said Jon Puetz, program director for South Dakota State University's Engineering Extension office, which administers the SHARP program under the OSHA-funded consultation program. The OSHA funding allows Engineering Extension to provide assistance to small private-sector businesses and help them comply with federal OSHA regulations without cost, fines or citations. "The work Electronic Systems Inc. does, and firms like it, pays off by building a stronger safety culture and a safer workplace for their employees and guests."
Members of Electronic Systems Inc. proudly display their recent SHARP recognition. ESI's Greg Adams, manufacturing manager; Gary Larson, president; Jeff Tornow, chief financial officer; and Marinela Buruiana, manufacturing engineer; join Jon Puetz, program director for South Dakota State University's Engineering Extension office; in celebrating the recent honor.
About South Dakota State University
Founded in 1881, South Dakota State University is the state's Morrill Act land-grant institution as well as its largest, most comprehensive school of higher education. SDSU confers degrees from six different colleges representing more than 175 majors, minors and specializations. The institution also offers 33 master's degree programs, 15 Ph.D. and two professional programs.
The work of the university is carried out on a residential campus in Brookings, at sites in Sioux Falls, Pierre and Rapid City, and through SDSU Extension offices and Agricultural Experiment Station research sites across the state.
---
Suggested Items
09/28/2023 | Technica USA
Technica USA announced it has reached a Master Distribution Agreement with SAA to promote and support automation systems & technology offered by SAA.
09/26/2023 | Lockheed Martin
Lockheed Martin Skunk Works, in partnership with the U.S. Air Force, completed the first flight of the U-2 Dragon Lady's Avionics Tech Refresh (ATR) program.
09/26/2023 | PRNewswire
Macronix International Co., Ltd., a leading integrated-device manufacturer in the non-volatile memory (NVM) market, announced its OctaFlash memory line has received ISO 26262 ASIL D (Automotive Safety Integrity Level) certification from SGS TÜV Saar, ensuring makers of automotive electronic systems that OctaFlash meets the highest level of safety in automotive electronics.
09/25/2023 | Alison James
"Electronics systems are at the heart of almost all modern technology. The performance and functionality of these systems have increased at breathtaking speed, chiefly as a result of advancements in semiconductor technology. Semiconductors do not function in isolation," writes Alison James, IPC senior director of government relations, in a 2023 report for the European Commission's Directorate General for Internal Market, Industry, Entrepreneurship. "These electronics systems feature prominently in key sectors like defence, aerospace, space, automotive, medical, and high-performance computing, but electronics are vital to every industry and are central to a variety of EU priorities, including the twin digital and green transitions and Europe's technological sovereignty."
09/28/2023 | Michael Carano -- Column: Trouble in Your Tank
In a previous column, the critical process of desmear and its necessity to ensure a clean copper surface connection was presented. Now, my discussion will focus on obtaining a void-free and tightly adherent copper plating deposit on these surfaces. After the desmear process, the task is to insure a continuous, conductive, and void-free deposit on the via walls and capture pad. Today, there are several processes that can be utilized to render vias conductive.