Books

Featured Books

pcb007 Magazine

Latest Issues

Current Issue

Finding Ultra

New demands on PCB fabrication, namely advanced packaging, ultra high density interconnect (UHDI), and new specialty materials, are converging, changing the landscape of our business. Is it time to start paying close attention to this convergence?

Developing a Strategy

A solid strategy is a critical part of success. This month, we asked some of the top industry leaders and business strategy "gurus" to share their thoughts on developing strategies.

Winning With TQM

In this issue, we explore how TQM has entered the DNA of continuous improvement disciplines, and the role leadership transformation plays in this. If you've ever competed against a TQM company, you understand their winning advantage.

Columns

Latest Columns

||| MENU
i3 Electronics' Frank Egitto Wins Lifetime Achievement Award
November 25, 2015 | i3 Electronics
Estimated reading time: 5 minutes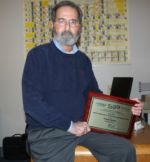 Frank D. Egitto, Director of Research and Development at i3 Electronics, Inc. in Endicott, NY was presented with the Technology Innovation Lifetime Achievement Award by the Small Scale Systems Integration and Packaging Center (S³IP), Binghamton University, and the Empire State Development Division of Science, Technology & Innovation (NYSTAR) at the S³IP Annual Dinner & Business Meeting on November 4, 2015.
In introducing the presenter of the award, Steve Czarnecki, Associate Director of S³IP stated, "Our final category is, in some ways, the most significant, and to me, the most prestigious: life is not a sprint, but a marathon.  It is, after all so often the case that it's sustained performance that matters.  To that end, we have the Technology Innovation Lifetime Achievement award.  This award, given only infrequently, recognizes an individual in the electronics packaging industry who has built a lifetime record of leadership and service to the industry as well as the University." The award was presented by Dr. Mark Poliks, Director of the Center for Advanced Microelectronics Manufacturing (CAMM), and longtime friend and colleague of Mr. Egitto.
An alumnus of Binghamton University, where he earned BA and MA degrees in Physics, Mr. Egitto has maintained a long standing relationship with the university and its faculty.  "Collaborative work with the S³IP Center has been a productive and mutually beneficial partnership", stated Mr. Egitto. "Because of the nature of my work, this has been especially true with respect to the Integrated Electronics Engineering Center (IEEC), the Analytical and Diagnostics Laboratory (ADL), and the CAMM, the nation's first prototype research and development facility in large area flexible electronics.
In his nearly thirty-eight years working in the microelectronics industry, thirty-three of which has been in Endicott, Mr. Egitto's activities have focused on research and development on materials, equipment, design, and processes for fabrication of integrated circuit chips and advanced microelectronic packaging solutions. Previous work experience includes employment with Texas Instruments, Dallas, TX, Applied Materials Plasma Etch Division, Santa Clara, CA, IBM Microelectronics Division, Endicott, NY, Endicott Interconnect Technologies, Inc., Endicott NY and i3 Electronics Inc., Endicott NY. His areas of expertise include plasma interactions with materials, laser ablation, modification of polymers with ultraviolet radiation, and advanced packaging.  He is the author or coauthor of eight book chapters and over eighty technical papers, and holds eighty-seven US patents.  He has served on the Technical Advisory Board and the Industrial Advisory Board for the IEEC at Binghamton University. He has had a career of leadership in moving projects through research and development into manufacturing of equipment, high-density flexible circuitry, semiconductor packaging, and printed wiring boards.
"My career has afforded me the opportunity to bring fundamental scientific and engineering principles to bear on real world applications, and taking these applications from feasibility demonstration to real products that enhance the lives of others. By far, the most fulfilling aspect of my work has been my collaboration with colleagues in industry and academia, who I consider to be among the best and brightest, truly world-class in their respective areas of expertise. In addition, throughout my career, I've been fortunate that management has fostered innovation by supporting the freedom to work on emergent technologies using a fundamental scientific approach to development and problem solving. Of course, the opportunities for innovation are never-ending and expanding, with microelectronics continually moving into new and challenging areas of science and technology," stated Mr. Egitto.
"Frank Egitto is a true asset to i3 Electronics. His dedication to this company and the impact he has made on the microelectronics industry cannot be overstated. Here at i3 Electronics, we are truly honored and proud to have Frank as part of our organization and look forward to his continued work. I would also like to personally congratulate Frank on this well-deserved award, stated Dale Kersten, Executive Vice President and Chief Business Officer at i3 Electronics.
Page 1 of 2
---
Suggested Items
09/29/2023 | Dixon
Dixon wholly owned subsidiary- Padget Electronics Private Limited enters into an Agreement with Xiaomi to carry out manufacturing of smart phones and other related products for Xiaomi.
09/29/2023 | USPAE
In a major initiative to innovate how the Department of Defense (DoD) spurs commercial technology development, the U.S. Partnership for Assured Electronics (USPAE) and DoD launched a Defense Business Accelerator (DBX) to open doors for industrial base growth and stimulate private investment.
09/28/2023 | KYZEN'
KYZEN, the global leader in innovative environmentally friendly cleaning chemistries, is proud to announce that it is sponsoring the Women's Leadership Program Connection Reception to be held at SMTA International.
09/28/2023 | Nolan Johnson, I-Connect007
The practical question around CHIPS Act development and electronics assembly is, "Will this change how we do business?" Indium Corporation's Dr. Andy Mackie sat down with Nolan Johnson to share what he sees as emerging answers to that question from his perspective as an expert in electronics assembly and packaging, and as a participant in standards development through IPC, JEDEC, and SEMI.
09/28/2023 | ZESTRON
ZESTRON is happy to announce that Senior Application Engineer, Ravi Parthasarathy, will be presenting "Revolutionizing PCB Assembly Cleaning: