Books

Featured Books

pcb007 Magazine

Latest Issues

Current Issue

Finding Ultra

New demands on PCB fabrication, namely advanced packaging, ultra high density interconnect (UHDI), and new specialty materials, are converging, changing the landscape of our business. Is it time to start paying close attention to this convergence?

Developing a Strategy

A solid strategy is a critical part of success. This month, we asked some of the top industry leaders and business strategy "gurus" to share their thoughts on developing strategies.

Winning With TQM

In this issue, we explore how TQM has entered the DNA of continuous improvement disciplines, and the role leadership transformation plays in this. If you've ever competed against a TQM company, you understand their winning advantage.

Columns

Latest Columns

||| MENU
HKPCA & IPC Show 2015 Kicks Off in Shenzhen China
December 2, 2015 | Barry Matties, I-Connect007
Estimated reading time: 6 minutes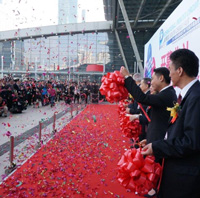 Barry Matties talks with Daniel Chan, executive director of the HKPCA, about the organization's expanded global outreach. They discuss what attendees can expect from this South China trade show that has become one of the biggest and most important shows in the PCB industry.
Barry Matties: Daniel, we were talking about the HKPCA show and how this year might be one of the biggest ever. Tell me a little bit about why that is.
Daniel Chan: I think very simply because we are located in the Southern China region, which is also one of the biggest PCB markets for Japan. What's very interesting today is the way the region is not just popular for PCBs, but also for R&D. There is a lot of innovation and new technologies, particular in telecom, taking place in this region. That makes it very good from an infrastructure standpoint, material standpoint, and also a machine standpoint—it's all here. That's why we are also creating a global coalition. The people like it and it's become the biggest commercial PCB show ever.
I really believe that the show must always create value for the people. The value is most important to them and they trust us that the show will provide that. This is a very important element in making it so successful.
Matties: That, and also the fact that you joined up with IPC ; I think that was a big boost for the show, too.
Chan: Definitely. I think the IPC gives us a lot of opportunity to see things from a global view. It makes the show more global and people know this is where they can get the best in the world, not just in China, to make them successful.
Matties: When someone comes to this show, what should their expectations be?
Chan: As I mentioned, it's a global coalition. They should come here to look at the machinery, the supply market, and to talk with people from around the world to find out what's happening globally in 2015 and then 2016 and beyond. We hope the show will help them plan for 2016 and beyond in terms of their marketing plans, investment plans, and also technological events.
Matties: There's a lot of talk about the bad economy in China. How has that impacted the show this year?
Chan: I think, as I shared to some of the people around here, that the economy coming down may not be such a bad thing because it lets the people think about what should be moving forward. When they think about what should be moving forward, coming to a show like this is very important to look for new opportunities and get information on what to plan for, and that's why this is an important platform. Particularly when the economy down a little bit, or maybe down a lot, this is a good way to build off that and move forward to a new level.
Page 1 of 2
---
Suggested Items
09/29/2023 | Intel
Intel celebrated the arrival of its Intel 4 technology, which uses extreme ultraviolet (EUV) technology, and the first use of EUV in high-volume manufacturing (HVM) in Europe.
09/28/2023 | Anaya Vardya, American Standard Circuits
There has always been pressure to reduce line and space as we have seen the bleeding edge technology go from 8 mils to 5 mils and then to 3 mils. The difference between "then" and "now" is that the prior advancements, for the most part, used the same processes, chemistry and equipment going from 8 mils to 3 mils. But going from 3 mil to sub 1 mil trace and space is a quantum leap in printed circuit board (PCB) technology that requires a whole new set of processes and materials.
09/28/2023 | PNNL
Pacific Northwest National Laboratory is collaborating with leading technology companies Microsoft Corp. and Micron Technology to make computational chemistry—a challenging subject but one with far-reaching significance for our lives—broadly available to applied researchers and industrial users.
09/28/2023 | SIA
The Semiconductor Industry Association (SIA) announced Geoff Martha, chairman and CEO of healthcare technology leader Medtronic, will be the keynote presenter at the 2023 SIA Awards Dinner on Thursday, Nov. 16 in San Jose, Calif.
09/26/2023 | Kirk Thompson, Isola Group
Despite being a leader in R&D investment in semiconductors and packaging with greater than $50 billion per year, the U.S. has seen its market share decrease to less than 3% in areas like advanced packaging and advanced substrates. The cause for this market share erosion was a laser focus in Asian countries to attract semiconductors and advanced packaging investment through ecosystem development and incentives. If the U.S. is serious about changing the momentum to onshore advanced packaging and advanced substrates, an ecosystem approach to innovation and manufacturing incentives must be employed. It is not enough to have the most innovative technology if the supply chain and manufacturing economics do not deliver competitive commercial opportunities.